Movies starring Dylan Walsh Congo
Since the release of Jurassic Park, Michael Crichton has become a Hollywood staple. Rights to each new novel are quickly optioned, and the resulting film is on the market as soon as ILM can get the special effects done. Congo is the fourth adapta... Lake House, The
Although this may amount to oversimplification, Alejandro Agresti's The Lake House is essentially a romance between two people connected by a time-traveling mailbox. As premises go, this has the virtue of uniqueness - Hollywood doesn't churn out t... Nobody's Fool
Nobody's Fool is about as sublime a motion picture as is likely to come out of Hollywood. With a structure that contravenes the norm, this film concentrates on character first, letting the plot fall naturally into place. Situations are forced on ...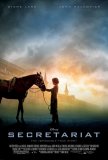 Secretariat
Secretariat joins Disney's pantheon of sports movies about underdogs that defy odds and become champions. Of all the movies in this group (which includes Remember the Titans, The Rookie, Invincible and Miracle), this is the least effective, in lar...