Movies starring Henry Thomas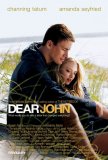 Dear John
Dear John delivers pretty much what one would expect from an adaptation of a Nicholas Sparks novel: a high-profile downer of a Harlequin romance. There's a market for this sort of movie, which lays it on thick and does everything possible to make ... E.T.
E.T. - The Extra-Terrestrial is one of the biggest money makers in box-office history. It is quite possibly the best known of all Steven Spielberg's films. Even at the relatively young cinematic age of two decades, it is beloved by multiple gener... Legends of the Fall
Legends of the Fall is the sort of epic melodrama that only Hollywood can do this well. It's a spectacle more than a show, with soaring moments of triumph and tragedy. Words like "restraint" and "subtle" are meaningless in this context. The late...