Movies starring Jena Malone Ruins, The
The Ruins does what a good psychological horror movie should do: rely on tension rather than gore to achieve its aims. This bleak, edgy motion picture isn't concerned with appealing to the masses that flock to multiplexes to enjoy the spatterings ... Stepmom
Stepmom is the kind of bad movie that can be blamed on just about everyone involved except, perhaps, the actors. There's nothing wrong with any of the performances, although they're wasted in the service of inferior material. The script is a mish...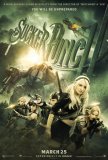 Sucker Punch
"It is a tale told by an idiot, full of sound and fury, signifying nothing." When Shakespeare penned those words for Act V Scene V of MacBeth, he might have emerged from a screening of Sucker Punch. This movie isn't bad in the way some incompetent...