Movies starring Mark Feuerstein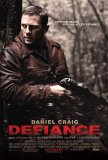 Defiance
For some reason, the Nazis are popular during the holiday season of 2008. They occupy central positions in Valkyrie and Good, flitter around the periphery of The Reader, and are rarely seen but very much present in Defiance. Edward Zwick's adapta... In Her Shoes
Some movies are simply made for women, and heterosexual men have no hope of appreciating them, I suppose. Do you like shoes? False sentimentality? Something that mistakes generalizations for insight? Then In Her Shoes is the film for you. Curtis Ha... What Women Want
The key to enjoying What Women Want - a feather-light trifle that will probably find favor at the box office - is not considering the age-old question of what might have been. The underlying premise - a male chauvinist suddenly gaining access to w...