Movies starring Helen Hunt As Good as It Gets
As Good as It Gets is a perfect Christmas release, not because the story takes place during the Yule season, but because many of the plot elements are straight out of Charles Dickens' A Christmas Carol. There's more than just a little Scrooge in M... Bobby
In the movie business, there's no such thing as "truth in titling." If there was, Bobby would be called A Bunch of Boring, No-Name, Cookie-Cutter Characters. Although that lacks the brevity and appeal of the real title, it's more illustrative of ... Cast Away
I'm sure there will be wags who will glibly compare Cast Away to the likes of "Gilligan's Island" and "Survivor", but, in tone, approach, and overall accomplishment, this atypical Robinson Crusoe tale bears a strong resemblance to one of director R... Dr. T and the Women
Few will deny that Robert Altman is among the greatest working American directors. His best films - M*A*S*H, Nashville, The Player, and Short Cuts - occupy unassailable perches of artistic and creative achievement. With a filmmaker of Altman's ta... Good Woman, A
It has taken this workmanlike adaptation of Oscar Wilde's play, "Lady Windermere's Fan," more than a year to reach U.S. movie screens. The reason it's here now probably has less to do with a sudden interest in Wilde than it does with the white-hot... Pay It Forward
Pay It Forward couldn't have more obvious aspirations if the filmmakers announced them. Featuring a top-notch cast; an adept script that meshes tragedy, light comedy, romance, and melodrama; and the kind of overall optimism that is a perfect tonic...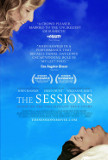 Sessions, The
Back toward the beginning of her career, a then- 29 year old Helen Hunt appeared in a movie called The Waterdance. The film dealt frankly with the way disability impacted the sexual relationship between her character and the one played by Eric Stol... Then She Found Me
This is the sort of movie that gives "chick flicks" a bad name. It's a cross between inept melodrama and a bad sit-com. The "comedy" (for lack of a better word) is obvious, poorly timed, and not especially funny. The "drama" (again, f... Twister
As movie-goers, we expect different things from big-budget summer blockbusters than we do from "normal" films. Considerations of theme and character become secondary to action and mind- numbing excitement. The plot is expected to be very basic... What Women Want
The key to enjoying What Women Want - a feather-light trifle that will probably find favor at the box office - is not considering the age-old question of what might have been. The underlying premise - a male chauvinist suddenly gaining access to w...