Movies directed by Curtis Hanson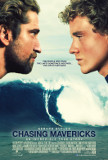 Chasing Mavericks
Chasing Mavericks feels like two completely different movies that have been mashed together. The first, a derivative and unsatisfying coming-of-age story about a Santa Cruz boy and his adopted father figure, seems uncharacteristically weak for the ... In Her Shoes
Some movies are simply made for women, and heterosexual men have no hope of appreciating them, I suppose. Do you like shoes? False sentimentality? Something that mistakes generalizations for insight? Then In Her Shoes is the film for you. Curtis Ha... L.A. Confidential
Crooked cops. The mystery and allure of Hollywood in the '50s. Death, double-crossing, and secret alliances. Paparazzi waiting to get that one breakthrough picture. These are just some of the elements that make Curtis Hanson's L.A. Confiden... Lucky You
Like most movies concerned to one degree or another with the subject of gambling, Lucky You addresses the themes of obsession and redemption. The film loosely follows the trajectory of an "addiction movie," although it's less grim than pictures of... River Wild, The
As thrillers go, The River Wild is a cut below a "white-knuckler," but it still has its share of spills and chills. Crafted by Curtis Hanson with considerably more style and substance than his previous effort, The Hand that Rocks the Cradle, The R... Wonder Boys
Back in mid-'90s, director Curtis Hanson was known as a B-list filmmaker - someone who could cull a fair amount of tension out of workmanlike stories such as The Hand That Rocks the Cradle and The River Wild. All of that changed in 1997, however, ...