Movies starring Miguel Ferrer Man, The
Hollywood has a long albeit checkered history of mismatched buddy cop films. I don't know when the trend started, but it was elevated in popularity by the partnership of Eddie Murphy and Nick Nolte in 48 Hours. 23 years later, director Les Mayfie... Mulan
My concept of a "family film" is a movie that can be enjoyed by viewers of all ages: undiscriminating young children, teenagers with short attention spans, and adults with somewhat more refined standards. Unfortunately, too often Hollywood eq...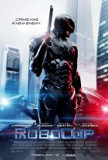 Robocop
Robocop was among the biggest surprises of 1987 - a sci-fi action film with a silly title that turned out to be a biting satire of big business practices. A tribute to the perspicacity and skill of director Paul Verhoeven, Robocop is capable of sa... Traffic
During the Spring of 1990, I remember being transfixed in front of the television set for an hour each Sunday night over a period of five weeks. The occasion was the "Masterpiece Theater" presentation of the British mini-series "Traffik", a comple...