Movies starring Jacob Vargas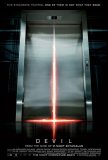 Devil
The underlying premise of Devil is the kind of thing Alfred Hitchcock could have used to develop a tightly-wound, pulse-pounding suspense movie. Unfortunately, Hitchcock is dead and the two men shepherding Devil through its production are not near... Hills Have Eyes II, The
The Hills Have Eyes II is a sequel to a remake but not a remake of a sequel. Curiously, Horrormeister Wes Craven has been involved in all four movies featuring the words "hills" and "eyes" in the title. He wrote and directed the 1977 original and ... My Family
My Family, the portrait of a Mexican-American family living in East Los Angeles, boasts a series of distinguished thematic antecedents, including Francis Ford Coppola's The Godfather and Zhang Yimou's To Live. Here, as in the 1972 gangster saga, t... Selena
Going into Selena, I didn't know or care much about the life of the late Tex-Mex singer, whose death in 1995 came just as she was attempting to break into the mainstream American pop market. As far as I was aware, Selena's tragic end was just anot... Traffic
During the Spring of 1990, I remember being transfixed in front of the television set for an hour each Sunday night over a period of five weeks. The occasion was the "Masterpiece Theater" presentation of the British mini-series "Traffik", a comple...