Movies starring Philip Baker Hall Magnolia
With Magnolia, director Paul Thomas Anderson has segued into the realm of the three hour movie. It's an ambitious step to take - making lengthy, ensemble movies with tangentially related and occasionally interconnected storylines can be a risky en... Rush Hour
Considering his recent surge in American popularity, it was all-but-inevitable that Jackie Chan would eventually show up in a big-budget Hollywood action picture. (He hasn't been in one since he did the Cannonball Run films back in the early '8...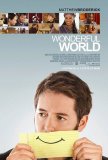 Wonderful World
Wonderful World feels like a modern-day half-baked riff on Charles Dickens' A Christmas Carol. Despite a film festival pedigree (it was shown at a number of local festivals on the 2009 circuit), the movie is so lightweight and inconsequential that ...