Movies starring Sinead Cusack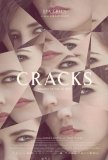 Cracks
The setting of Cracks - an elite British all-girls boarding school during the 1930s - is a classic exploitation film locale. For her feature debut, however, Jordan Scott (daughter of Ridley, who co-executive produced the film along with his brother... Eastern Promises
Eastern Promises is the latest effort from acclaimed filmmaker David Cronenberg, whose recent work has elevated his status from that of a cult figure to someone in the mainstrem. Although the director has re-teamed with his The History of Violence ... Stealing Beauty
What do you call a character study with shallow, sketchily-drawn characters, but a gorgeous setting? A scenery study, perhaps. Or an atmosphere study. Either would be appropriate for Stealing Beauty, a stylish, sensual motion picture that's holl... Cement Garden, The
Considering the rancid, nightmarish quality of his books, it's somewhat amazing that a writer like British author Ian McEwan could have three of his works filmed by now. In addition to The Cement Garden, The Comfort of Strangers has been made into...