Movies with cinematographer Reynaldo Villalobos Love & Basketball
Love & Basketball is, as one can infer from the title, about love and basketball. The film follows the lives of two next-door neighbors, one male and one female, from their first meeting on the court at the age of 11 until a fateful night a dozen ... Lucas
In the decade of the 1980s, when the teen movie was redefined as either a juvenile sex comedy or a bloody slasher movie, Lucas became one of the few exceptions to try a different approach. Even today, thirteen years after it first played in theate...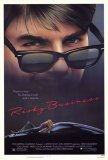 Risky Business
For Tom Cruise, 1983 was the year of his Ascension, although the Coronation would have to wait until Top Gun in 1986. Before 1983, Cruise was regarded as an up-and-coming actor, someone to watch. But with the double-barreled success of the teen r...