Movies directed by Howard Deutch Grumpier Old Men
As 1993 drew to a close, movie-goers in search of light entertainment were treated to the delightful (if formulaic) Grumpy Old Men, a reunion of the often-paired odd couple of Jack Lemmon and Walter Matthau. Now, two years later, John Gustafs...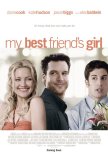 My Best Friend's Girl
Romantic comedies are fantasies. They invite us to fall in love with the main characters as they fall in love with each other. That's difficult to accomplish when viewers find themselves actively disliking those characters. How is it possible to... Whole Ten Yards, The
I might have felt sad about what director Howard Deutch and screenwriter George Gallo have done to the characters from The Whole Nine Yards if I cared about them in the first place. The problem with a movie like Jonathan Lynn's 2000 noir comedy is...