Movies with music written by Stanley Clarke First Sunday
Based purely on the misleading trailers that herald First Sunday's arrival in theaters, one might be forgiven thinking this is another dumb comedy about individuals characterized by a shortage of brain cells. However, while the film occasionally f... Transporter, The
The Transporter is cinematic extravaganza for everyone who disdains wimpy movie elements like "plot" and "character development". This balls-to-the-walls action/adventure makes the average James Bond film look like something by Eric Rohmer. It's...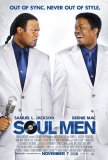 Soul Men
No one could accuse Soul Men of originality - it cribs liberally from countless buddy films and road movies - but it offers enough energy and humor to overcome its shortcomings. The hit-to-miss quotient of the film's frequently profane and raunchy... Best Man, The
The Best Man is not what it initially seems to be. Despite starting out with all the earmarks of a fairly ordinary romantic comedy, the project develops into a surprisingly effective look at a man's quest for rebirth after events topple him from a...