Movies with music written by Stewart Copeland Fresh
Never has chess been a more apt metaphor for life than in Boaz Yakin's feature debut, Fresh. Like Lawrence Fishburne in Searching for Bobby Fischer, Samuel L. Jackson sits in New York's Washington Square playing speed chess and dispensing valu... Riff-Raff
Stevie (Robert Carlyle) is an ex-con from Scotland struggling to start anew. In an attempt to change his life, he takes a construction job in North London where he meets an assortment of others who, in one way or another, are just like him. H... She's All That
See if this sounds familiar... A hot, young hunk bets his friends that he can turn any girl into a prom queen, and the friends pick out the geekiest girl in the school. The boy contrives a story to meet her, then starts to hang out with her, but,...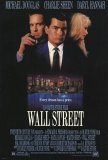 Wall Street
One phrase - perhaps the best-known one from any 1987 release - encapsulates a critical component of '80s culture that once again crept to the fore in the late-'00s. I am, of course, referring to Gorden Gekko's "Greed… is good." A vice transfor...