Movies with screenplay written by Lem Dobbs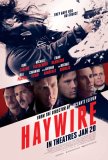 Haywire
Steven Soderbergh's Haywire exhibits a remarkable economy of screen time - unusual in an era of bloated action films in which even throw-aways challenge the two hour mark. In fact, one could argue that Haywire is too short. It's enjoyable enough,... Dark City
The Crow will forever be remembered as the final performance of budding star Brandon Lee, who died as a result of a tragic behind-the-scenes accident. However, as intense as the hype associated with Lee's death was, it could not obscure the mo... Limey, The
Terence Stamp is The Limey, and The Limey is Terence Stamp. Forget about everything else in this film - the supporting cast, which features Lesley Ann Warren, Luis Guzman, and Peter Fonda, Steven Soderbergh's lively direction, and even Lem Dobbs' ... Score, The
Many years ago, during the Golden Age of Hollywood, the motion picture industry practically ran on star power. These days, in large part because of skyrocketing salaries, it's unusual to find more than one high-profile performer in any given motio...