Movies with screenplay written by Richard Kelly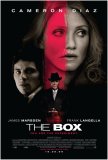 Box, The
Feelings of déjà vu while watching The Box are understandable (perhaps inevitable), with the movie evoking memories of a Twilight Zone or Outer Limits TV episode. Such similarities are not coincidental; the author of the source material, Richard... Domino
I'm sure the story of bounty-hunter Domino Harvey would make for compelling cinema if only Tony Scott had decided to film it without the masturbatory excesses that are evident in Domino. Over-the-top doesn't begin to describe Scott's off-putting, ... Donnie Darko
Donnie Darko, the debut feature from writer/director Richard Kelly, is part psychological thriller and part science fiction mystery. The title character (Jake Gyllenhaal), a teenager in his last year of high school, is suffering from all manner of ...