Admission (United States, 2013)
March 21, 2013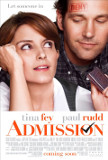 Admission is a serviceable, sporadically entertaining motion picture that has been aggressively developed for mainstream consumption. Infused with an almost relentless blandness, it's defined by soft comedy (a few laughs here and there), flaccid drama, and likeable actors. Director Paul Weitz gamely tries to recapture something of the flavor of About a Boy but falls short of the target. Admission is the kind of disposable entertainment that won't generate sufficient passion to result in either overt pans or raves.
For me, it's easy to identify why Admission doesn't work: I didn't buy the situation. The characters are cut from the whole cloth of cinematic stereotypes but their familiarity isn't the problem. It's that director Weitz, working from a screenplay credited to Karen Croner (which, in turn, is adapted from the novel by Jean Hanff Koreliltz), fails to "sell" the scenario. A lot of what shows up on screen during the course of Admission's nearly two hour running time feels stale and artificial.
It's hard to determine whether Admission is a commercial for Princeton University or a condemnation of some of its admission practices. Perhaps a little of both. Certainly, the university appears to have been on board in some capacity since it was filmed in part on location. The story focuses on 16-year veteran admissions officer Portia Nathan (Tina Fey) who finds her neatly ordered life in turmoil when she learns that an applicant, Jeremiah Balakian (Nat Wolff), might be the son she gave up for adoption eighteen years ago. Although Jeremiah has terrible grades, his SATs are nearly perfect and he has aced eight AP exams, making his candidacy abnormal. As Portia investigates him, she becomes enmeshed in a romantic liaison with his mentor, John Pressman (Paul Rudd). Meanwhile, she's dealing with fallout from the breakup of her relationship with a Princeton professor and is vying with a co-worker (Gloria Reuben) for the position of Dean of Admissions when the current holder of that title (Wallace Shawn) retires.
One area of interest offered during the course of Admission is a peek behind the curtain at the factors that go into establishing whether or not an applicant is worthy of being brought up for a vote by the entire board. These "fly on the wall" sequences are more intriguing than the tired family drama and "wacky" comedy sequences. It often feels there's a really good, offbeat story in here that has been marginalized by the need to be a crowd-pleaser. After all, audiences are probably more interested in stories about relationships between parents and children than how the byzantine college admissions process really works.
Tina Fey is without a doubt one of the most witty and charismatic performers working today but the screenplay of Admission fails to allow her to shine. Her humor is muted and the she's never really given an opportunity to display any genuine dramatic chops. She's caught in the middle, trapped in the molasses of the motion picture equivalent of Lite FM. I guess Admission wants us to laugh and cry but it doesn't do a very good job of promoting either emotion. One wishes Fey might have been given some input into the script.
Paul Rudd plays the likeable schlub at which he has become typecast. Is there really much difference between John and Pete in This is 40 or George in Wanderlust? It has become increasingly difficult to see Rudd as anyone other than Rudd. Perhaps he plays the character too well. His chemistry with Tina Fey is more of the "buddy" variety than the romantic one. Their (admittedly tame) sex scenes don't generate much in the way of heat.
Admission will almost certainly do well at the box office because Fey is a legitimate draw and the film practices strict avoidance of anything that might alienate any large segment of the movie-going population. My evaluation is to wait-list Admission and catch it when it reaches the less demanding platform of home video. And if you're a college applicant hoping to get a few tips for skating through the admissions process, here's what the film has to say about what the "secret" is: "You'll have to find that out yourself." Don't bother looking for it, or much else, here.
---
Admission (United States, 2013)
---
Three...better movies of this genre
worse movies of this genre
Three...better movies of Tina Fey
worse movies of Tina Fey
Three...better movies of Paul Rudd
worse movies of Paul Rudd
Three...better movies of Wallace Shawn
worse movies of Wallace Shawn