August: Osage County (United States, 2013)
January 11, 2014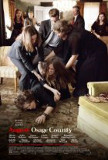 August: Osage County is all about the acting. That makes sense because the storyline doesn't offer much that could be considered new or remarkable. It's as big a downer as the pills popped by matriarch Violet Weston (Meryl Streep) but the quality of the performances softens the blow. This is a true ensemble effort. Everyone gets their big moment/scene but no one takes center stage for very long. The film's drama is solid enough to give the actors a fertile playground but the emotional impact is strangely muted. One could easily describe August: Osage County as an opportunity for a bunch of dysfunctional characters to spend two hours spilling old secrets and attacking one another.
Tracy Letts has done a respectable job converting his play into a script. Some things are lost but the main plot points remain. The ending was tweaked slightly as a result of negative test screening comments but the new final scene feels unnecessary. In fact, watching it, I wondered why it was even there. This is the second directorial effort of prolific writer/producer John Wells and he understands that the best way to make a movie like this is to stand back and let the actors do their thing. He captures a tone that feels like a cross between biting French comedy and Greek tragedy. The French in particular love stories in which families reunite and spend long weekends tearing into each other. Watching August: Osage County, I was reminded of Cedric Kapisch's 1996 film, Un Air de Famille.
The occasion for the gathering of family members is the suicide of patriarch Beverly Weston (Sam Shepard), an alcoholic poet who's had enough of a life where caring for his cancer-stricken wife, Violet, is "getting in the way of [his] drinking." For her part, Violet's addiction to pills fuels cruel, callous, and capricious behavior. Her three daughters arrive home for their father's funeral. The eldest, Barbara (Julia Roberts), comes with her estranged husband, Bill (Ewan McGregor), and 14-year old daughter, Jean (Abigail Breslin), in tow. Second daughter, Ivy (Julianne Nicholson), finds her secret romance with her first cousin, Little Charlie (Benedict Cumberbatch), on the verge of exposure. And third daughter, Karen (Juliette Lewis), brings along a womanizing fiancé (Dermot Mulroney). Also on hand are Violet's sister, Mattie Fae (Margo Martindale), and her husband, Charlie (Chris Cooper). Starting with the funeral dinner, these people spend several days eviscerating each other with Violet's approach to this "war" being a scorched earth policy.
If the Academy gave out awards for ensemble performances, there's no doubt August: Osage County would be deserving. However, considering that such a category doesn't exist, there's no obvious opportunity for nominations (although Julia Roberts might nab a Supporting Actress nod in a very weak field). This isn't a movie that relies on strong individual portrayals; it's about actors blending with one another until the moment when they're allowed to seize the spotlight. Streep and Roberts have the lion's share of the screen time (making the decision to place Roberts in the Supporting Actress category questionable) but in many ways some of the quieter performances - Sam Shepard in his single scene, Chris Cooper, Margo Martindale - that stick the most strongly in the memory.
August: Osage County has a bite and the darkly comedic edge leavens the melodrama to keep it from becoming extreme. This aspect holds the film on the bearable side of a masochistic experience, although it could by no means be considered an exercise in feel-good film-going. Bad things happen to good and bad people alike and just when you think things can't get any worse, they do. Still, Letts' screenplay is sharp and literate and, more often than not, August: Osage County feels substantial, although it could equally be viewed as a cinematic psychotherapy session.
---
August: Osage County (United States, 2013)
Director:
John Wells
Cast:
Meryl Streep
,
Benedict Cumberbatch
,
Abigail Breslin
,
Dermot Mulroney
,
Margo Martindale
,
Juliette Lewis
,
Julianne Nicholson
,
Ewan McGregor
,
Chris Cooper
,
Julia Roberts
,
Sam Shepard
Screenplay:
Tracy Letts, based on her play
Cinematography:
Adriano Goldman
Music:
Gustavo Santaolalla
U.S. Distributor: The Weinstein Company
---
Three...better movies of this genre
worse movies of this genre
Three...better movies of Meryl Streep
worse movies of Meryl Streep
Three...better movies of Benedict Cumberbatch
worse movies of Benedict Cumberbatch
Three...better movies of Abigail Breslin
worse movies of Abigail Breslin