Being the Ricardos (United States, 2021)
December 08, 2021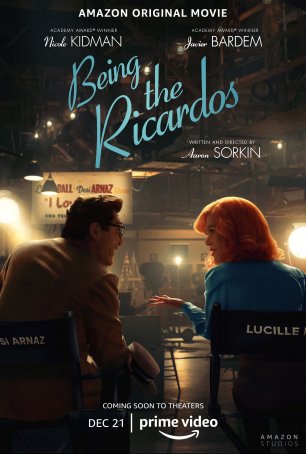 For anyone who was alive and watching American television between 1950 and 1980, it's a sure bet that at least one episode of I Love Lucy was consumed. The most popular TV show during four of its six seasons, the first Desilu production went on to become a syndication staple and was still airing in numerous markets 30 years after departing the airwaves in 1957. With Aaron Sorkin writing and directing, Being the Ricardos pulls back the curtain and takes a look behind-the-scenes at the production of a single episode of Season 2. The drama is thicker backstage than it ever would be in front of the camera for one of CBS' biggest sit-coms. Lucille Ball (Nicole Kidman) and her husband/co-star Desi Arnaz (Javier Bardem) are facing a trio of challenges. Their marriage is threatened by tabloid rumors of Desi's infidelity. Their careers are endangered when reports surface that Lucy was a member of the Communist Party. And the couple's pregnancy throws the production schedule into chaos – especially when Desi announces that he intends for his wife's "condition" to be written into the show.
It's fascinating to watch the minutia of how the show was produced from the Monday read-throughs to the Friday filming in front of a live audience. (No canned laugh-tracks for I Love Lucy.) Many of the details are surprising and with near-documentary precision, Sorkin illustrates how forward-thinking the program was. Instead of going out live with poor-quality kinescopes for the West Coast, I Love Lucy was filmed in 35 mm so that both New York and Los Angeles could get a finished product of equal quality. And, instead of using a single camera (as was commonplace), three were employed.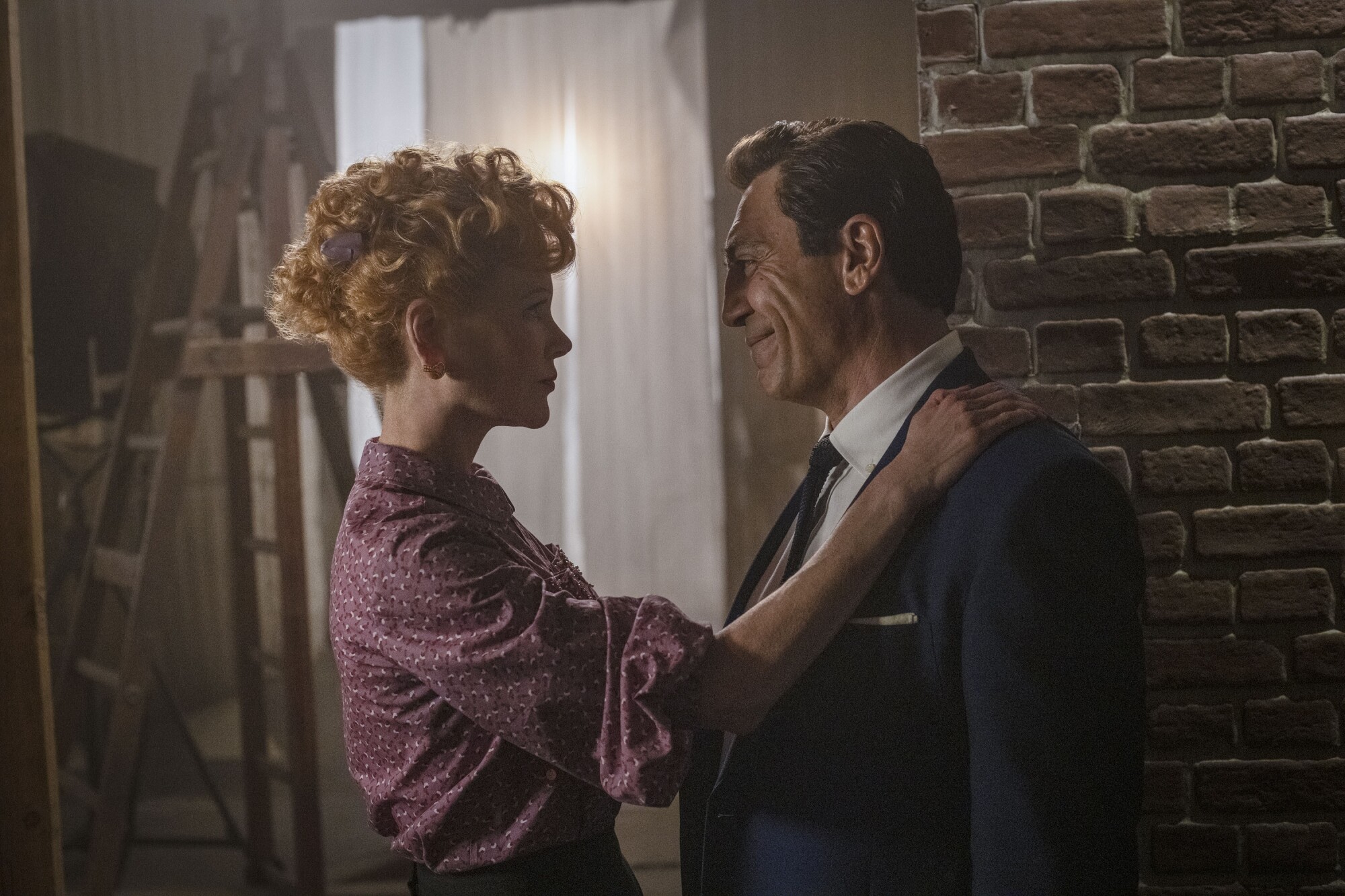 Unfortunately, the movie's dramatic elements aren't as compelling. One problem with making a movie about real people whose life stories are well-known is that we're familiar with the endings. Would the Red Scare threaten Lucy and Desi's career? No. I Love Lucy ran for four seasons after the events depicted in the movie and its popularity never waned. Would Lucy and Desi's marriage survive his affairs? Also, no. They divorced in 1960. Sorkin tries gamely to beef up these elements but, without mystery, the narrative feels flat and elongated. (He does manage to shoehorn a surprise moment into the third act.)
In some ways, the various flashbacks work better than the 1953 scenes. In those, Being the Ricardos shows how Lucy and Desi met and fell in love. They illustrate Lucy's frustration with the poor progression of her movie career and depict her eventual jump from radio to TV. The movie doesn't attempt to recap Lucy's life and times – Sorkin is a savvy enough filmmaker to recognize that a conventional bio-pic structure wouldn't work – but it provides enough to flesh out her character.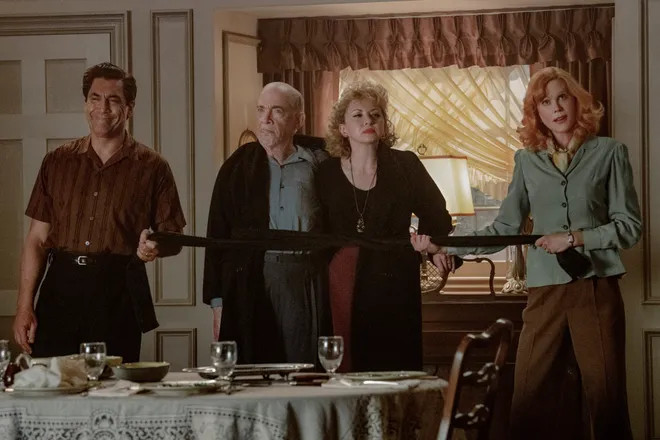 Perhaps the biggest question relates to whether Nicole Kidman (not the first choice for the part – that was Cate Blanchett, but production delays related to COVID forced her to drop out) is credible as Lucy. Even having seen the entire (too-long) 130-minute production, I'm on the fence. She does an excellent vocal impersonation and there are times, especially when the camera doesn't opt for a close-up, when she pulls it off. But the more Sorkin zooms in, the more apparent it becomes that this is Nicole Kidman not Lucille Ball. There's a barrier there; perhaps the problem is that I know Lucy too well (if only from the TV show). On the other hand, although Javier Bardem looks less like Desi than Kidman looks like Lucy, he nails the character. Supporting actors Nina Arianda (as Vivian Vance) and J.K. Simmons (as William Frawley) are solid and do a good job peppering their interactions with plenty of vinegar (Vance and Frawley couldn't stand one another). The standouts, however, are the "unknowns" – I Love Lucy producer Jess Oppenheimer (Tony Hale) and writers Madelyn Pugh (Alia Shawkat) and Bob Carroll (Jake Lacy).
Sorkin, as has been the case with many of his previous productions, uses rapid-fire dialogue and a restless camera to convey a sense of urgency that may not necessarily be warranted by the story. This quality enlivens Being the Ricardos and obfuscates how low the overall stakes are and how threadbare the story is. It's a perfectly enjoyable piece of movie-making and a treasure for those who want a better understanding of how old TV shows were made. (If I ever again watch an episode of I Love Lucy, it will be with a different eye.) The recreations are fun although (thankfully) kept to a minimum. But it's a step down from the Oscar-nominated The Trial of the Chicago 7 and, like so many movies being released in recent years, counts nostalgia as its strongest quality.
---
Being the Ricardos (United States, 2021)
Run Time: 2:11
U.S. Release Date: 2021-12-10
MPAA Rating:
"R" (Profanity)
Genre:
Drama
Subtitles: none
Theatrical Aspect Ratio: 2.35:1
---
Three...better movies of this genre
worse movies of this genre
Three...better movies of Nicole Kidman
worse movies of Nicole Kidman
Three...better movies of Javier Bardem
worse movies of Javier Bardem
Three...better movies of Nina Arianda
(There are no more better movies of Nina Arianda)
worse movies of Nina Arianda
(There are no more worst movies of Nina Arianda)