Devil All the Time, The (United States, 2020)
September 21, 2020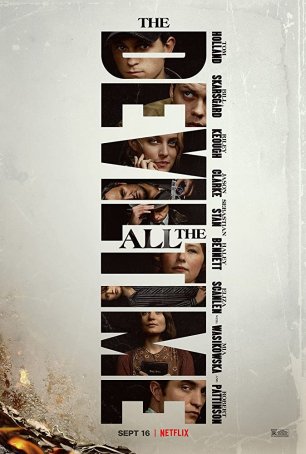 I love the beginning – the sense of time and place. Part of this has to do with the introductory voiceover narration (provided by the writer of the novel, Donald Ray Pollock, whose intonation has all the right qualities for this job). Part of it has to do with the impeccable period design work that transports the viewer back through the years to (initially) 1957 and 1965. The characters in this piece, whether they inhabit the rural town of Coal Creek, West Virginia or the equally backward berg of Knockemstiff, Ohio, are a rogues' gallery of killers, abusers, and other assorted deviants. This is a world in which God doesn't answer prayers (although plenty are offered) and where, in the words of more than one character, "There's a lotta no-good sons of bitches out there."
For about its first third, The Devil All the Time jumps around in time, shuttling between 1945 and 1957 with a stop or two in between. By roughly the 45-minute mark, once the backgrounds of the various characters have been established, it settles in 1965 where the meat of the narrative unfolds. Early in the proceedings, the chronological and geographical shifts can create a sense of confusion (or exhaustion) but things eventually stabilize as the story focuses on one primary character: Arvin Russell (Tom Holland). Despite the ensemble nature of the cast, this is his coming-of-age tale.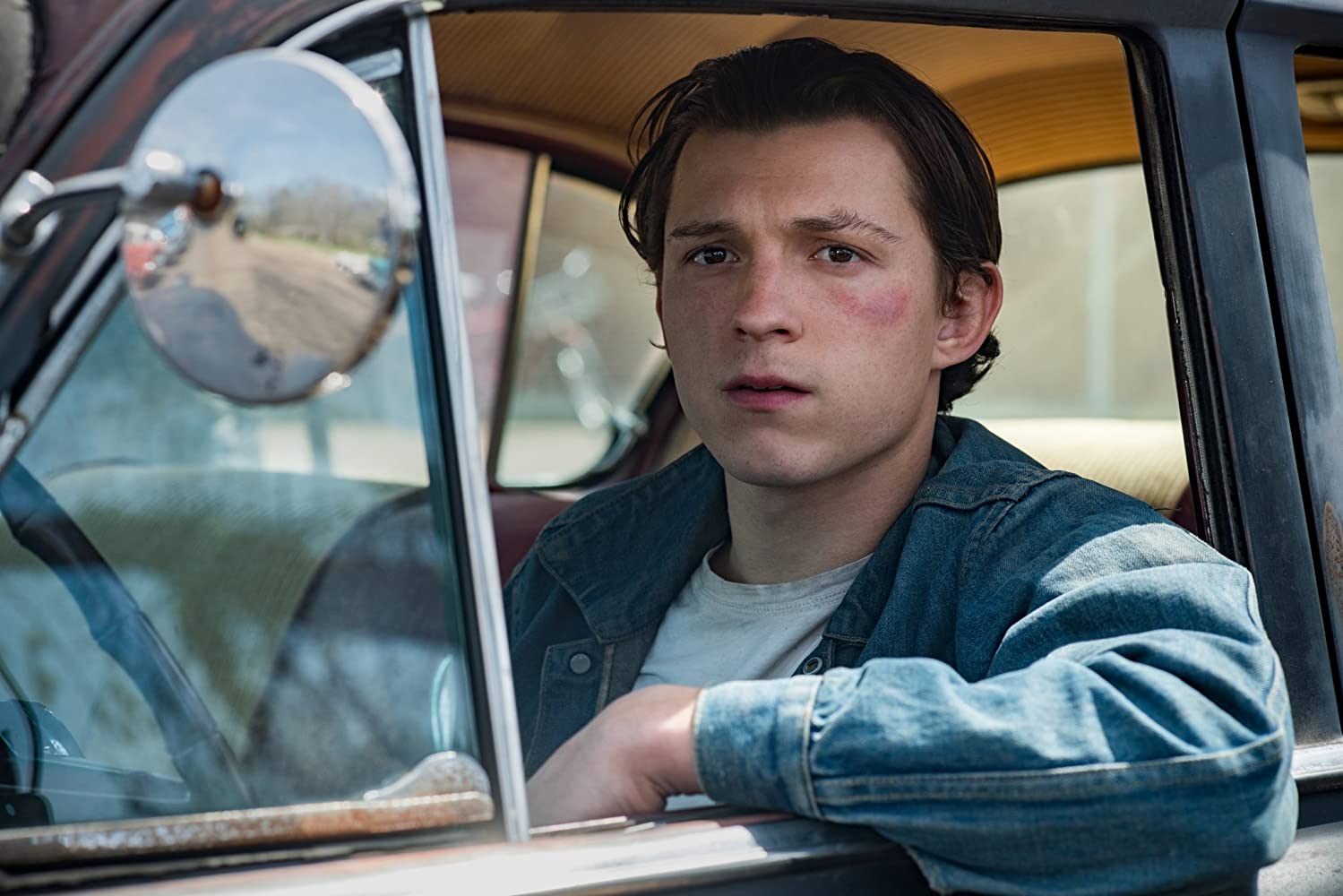 Chronologically, events begin toward the end of the War in the Pacific with U.S. marine Willard Russell (Bill Skarsgard) losing a part of his humanity in the Solomon Islands when he is forced to apply the coup de grace to a mortally wounded comrade. Headed home to Coal Creek after the war, Willard stops off in Meade, Ohio where he meets Charlotte Russell (Haley Bennett), a waitress who will become his wife. At the same time in the same café, Carl Henderson (Jason Clarke) first encounters his future spouse, Sandy (Riley Keough). Their future paths will intersect that of Willard's as-yet unborn son.
After marrying Charlotte, Willard relocates to Knockemstiff. The couple has a son, Arvin, who is nine or ten years old by 1957. That's the year when Charlotte dies of cancer and, in the wake of her death, Willard commits suicide. Arvin goes to live with his elderly grandmother, Emma (Kristin Griffith), and uncle, Earskell (David Atkinson). He meets his step-sister, Lenora, who was adopted by Emma after her mother and father disappeared. As we learn separately, Lenora's preacher father, Roy (Harry Melling), stabbed his wife (Mia Wasikowska) to death after a religious hallucination, and was subsequently murdered by serial killers Carl and Sandy Henderson. Lenora, a baby at the time (in 1950), came to live with Emma and has no memory of her biological parents
The rest of the movie transpires in 1965 in both Coal Creek and Knockemstiff. In the former locale, Arvin's protectiveness of Lenora (Eliza Scanlen) brings him into conflict with a group of locale bullies. Meanwhile, the naïve Lenora falls prey to the urges of the town's new preacher, Preston Teagardin (Robert Pattinson), whose pious exterior hides a monstrous and depraved soul. One state away, the serial killers are experiencing marital fatigue and Sandy's brother, the corrupt chief of police Lee Bodecker (Sebastian Stan), tries to manicure his image in preparation for a re-election campaign.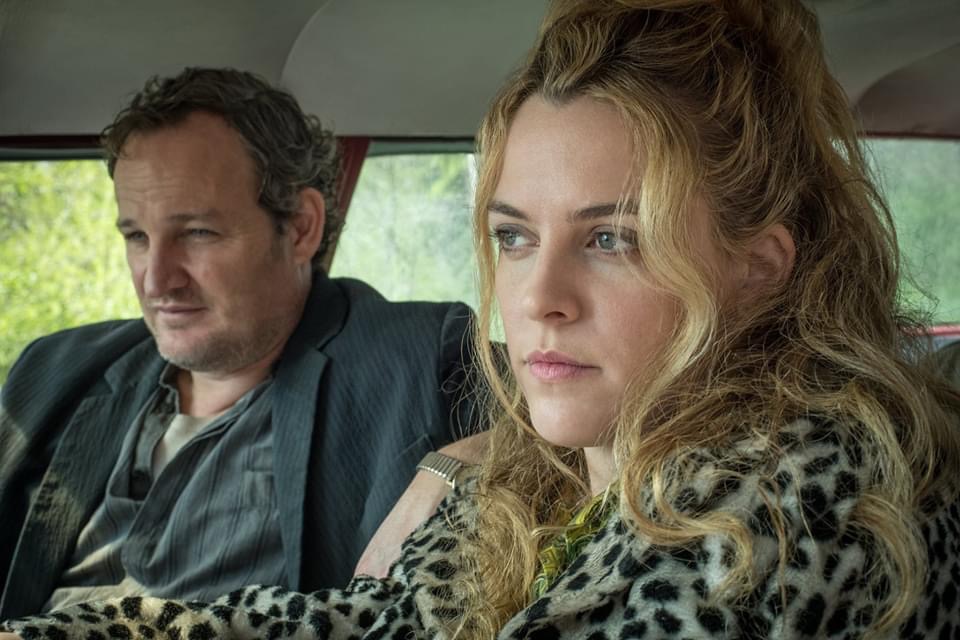 There's a lot to unpack in The Devil All the Time but the story is well-paced and gains narrative momentum as the various seemingly-unrelated threads move ever-closer on a collision course. Director Antonio Campos (who previously made the 2016 bio-pic Christine) opts for a serious tone; the only instances of wry humor can be found in Pollock's voiceover. The period detail is impeccable and The Devil All the Time gets high marks for its establishment of time and place.
The film provides Tom Holland with an opportunity to verify that there's a lot more to him than Peter Parker. Arvin is a vigilante of a much different stripe and Holland plays him with a cold intensity. Another of the production's "superheroes," Robert Pattinson (who will soon be Batman), opts for a more over-the-top approach. Sebastian Stan, who took over for the originally-cast Chris Evans (at the latter's recommendation when he became unavailable), is somewhere in between. Other recognizable names – Jason Clarke, Riley Keogh, Mia Wasikowska – make small-but-important contributions.
Upon its release, Pollock's novel was compared to Cormac McCarthy's work so it's perhaps natural to remark on surface similarities in the movie to the Coen Brothers' No Country for Old Men. However, where the Oscar-winning directors found a streak of dark comedy in the heart of an otherwise somber and downbeat narrative, The Devil All the Time is less daring in its approach to this material. The resulting production is engrossing but conventional – a well-told story whose evocative setting and vivid performances combine to produce a grim and lurid tableau.
---
Devil All the Time, The (United States, 2020)
Director:
Antonio Campos
Cast:
Tom Holland
,
Robert Pattinson
,
Sebastian Stan
,
Bill Skarsgard
,
Haley Bennett
,
Riley Keough
,
Jason Clarke
,
Harry Melling
,
Mia Wasikowska
,
Eliza Scanlen
Screenplay:
Antonio Campos & Paulo Campos, based on the novel by Donald Ray Pollock
Cinematography:
Lol Crawley
Music:
Danny Bensi, Saunder Jurriaans
U.S. Distributor: Netflix
---
Three...better movies of this genre
worse movies of this genre
Three...better movies of Tom Holland
worse movies of Tom Holland
Three...better movies of Robert Pattinson
worse movies of Robert Pattinson
Three...better movies of Sebastian Stan
worse movies of Sebastian Stan