Game Night (United States, 2018)
February 24, 2018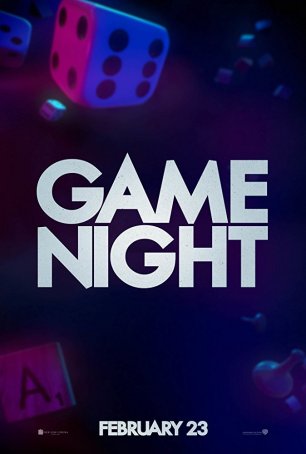 Game Night is canny enough to go full-throttle with the absurd and not bother trying to do much with its meager dramatic and/or sentimental elements. Character-building occurs through the comedy and doesn't extend beyond what's needed to keep things moving. Co-directors John Francis Daley and Jonathan Goldstein (whose previous partnerships including writing Horrible Bosses and directing Vacation) never forget that this is a comedy and people are in the theater for the express purpose of laughing – and that's precisely what they deliver.
The film introduces us to a group of five friends who gather together regularly for game nights – events where they play everything from RISK to Monopoly to Charades. Max (Jason Bateman) and Annie (Rachel McAdams) are a happily married, middle-class suburban couple whose romance was fueled by their mutual competitiveness. The are joined by another husband-and-wife, Kevin (Lamorne Morris) and Michelle (Kylie Bunbury), and Annie's dim single friend, Ryan (Billy Magnussen). Every week, Ryan brings another girl with him. This time, it's the surprisingly sharp Sarah (Sharon Horgan), an Irish lass who adds a dash of class to the proceedings. Also participating is Max's overachieving brother, Brooks (Kyle Chandler), who has to do everything better, stronger, and faster than his sibling. Finally, on the outside looking in is the dour police officer next door, Gary (Jesse Plemons), whose lifeless personality has resulted in his no longer being invited. He wants nothing more than for those invitations to resume – even if he has to do something extreme to ensure it.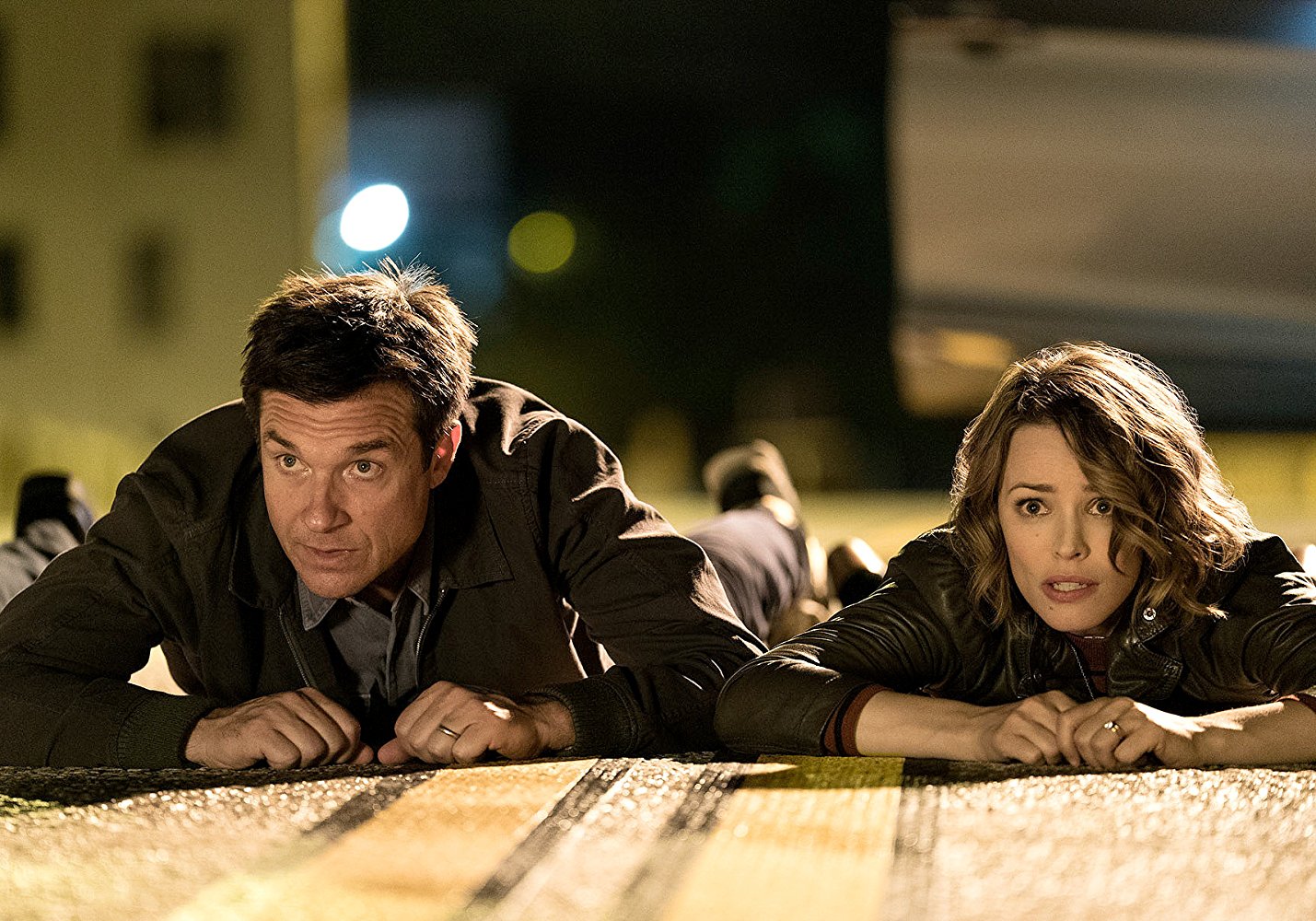 Not a fan of "bored" games, Brooks concocts something bigger and bolder. Based loosely around the concept of a murder mystery dinner party, the rules call for someone to be kidnapped and the rest of the participants to compete to rescue him/her. Unfortunately, when the goons come for Brooks, it turns out there's a real kidnapping. So, while two couples are following false clues, Max and Annie chase down the men who have taken Brooks and, still thinking it's all in fun, charge in with guns (literally) blazing. Only when Max is shot do they realize that more than the game may be afoot. From that point, things become progressively sillier, with action sequences that make fun of action sequences, and more movie references than you can shake a stick at. All that and a fake cameo that results in one of the film's cleverest moments.
Although the screenplay isn't a masterpiece of deception, it offers a few clever twists that give the actors material to work with and the directors an opportunity to play with the audience. Some of the narrative contortions are predictable but at least one may not be and, even if you guess all the surprises, Game Night is sufficiently funny that this wouldn't be a major drawback.
Jason Bateman's even-keeled, matter-of-fact approach is perfect for the part; the directors (whose history with him dates back to Horrible Bosses) probably had him in mind from the beginning. He and Rachel McAdams share an easygoing chemistry that gives their interaction more of a "buddy" element than a romantic one. Jesse Plemons steals scenes as the glowering Gary; we can never decide whether he's malevolent or simply unimaginative and the film does a good job of parceling out his scenes to avoid causing an overdose. A little Gary is amusing; a lot of Gary would have become grating. Daly & Goldstein (along with credited screenwriter Mark Perez) find the right measure for this ingredient.
Too many comedies fall apart in the third act as the filmmakers become invested in providing a happy ending with closure and kumbayas. That's not a problem for Game Night; although it ties up most of the loose ends, it maintains its cheekiness while poking fun at the overused concept of redemption. Most importantly, it stays funny up to the beginning of the end credits, and maybe a little beyond.
---
Game Night (United States, 2018)
---

Three...better movies of this genre
worse movies of this genre
Three...better movies of Jason Bateman
worse movies of Jason Bateman
Three...better movies of Rachel McAdams
worse movies of Rachel McAdams
Three...better movies of Kyle Chandler
worse movies of Kyle Chandler