Get Him to the Greek (United States, 2010)
June 01, 2010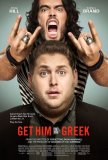 In the midst of the testosterone and special effects that dominated the 2009 summer box office, along came a raunchy comedy called The Hangover that not only became one of the year's biggest hits but re-affirmed that there is a place for rude, crude, lewd motion pictures. Sadly, in the nearly one year gap since the release of The Hangover, the various coattail-riding R-rated comedies arriving in theaters have been universally disappointing: unfunny, tedious, and sometimes hard to watch. Leave it to Aldous Snow to change the trend. Back from his dalliance with Sarah Marshall, Snow (played by Russell Brand) gets an opportunity to headline his own movie, and Get Him to the Greek turns out to be the funniest hard-R comedy since The Hangover.
Judd Apatow's magic touch, challenged for the first time with Funny People, has been restored with Get Him to the Greek. However, Apatow is only producing here. This is the child of Nicholas Stoller, who is both writer and director. Stoller, whose sole previous behind-the-camera credit is Forgetting Sarah Marshall, elected to spin-off this movie for Forgetting Sarah Marshall's most eccentric character: rocker and partier Snow. With the exception of a fleeting, blink-and-you'll-miss-it cameo for Kristen Bell as Sarah Marshall, Snow it the only returning character. Get Him to the Greek's other star, Jonah Hill, also appeared in Forgetting Sarah Marshall, but as a different character than the one he essays here.
As with all films bearing Apatow's name in some capacity, Get Him to the Greek isn't all about belly laughs, although there are plenty of those to be sure - some of which are so loud that whole passages of dialogue are drowned out by audience-wide explosions of mirth. There's a poignant aspect to the story that injects an element of human drama. Snow, who was a living, breathing caricature in Forgetting Sarah Marshall, develops into a three-dimensional individual here. He drinks and does drugs to numb the pain of having lost the love of his life (Jackie Q, played by Rose Byrne) and having been used as a meal ticket by his father (Colm Meaney). The unlikely bond he forms with recording company suit Aaron Green (Jonah Hill) occurs because he has no one else.
The storyline is straightforward: Aaron is dispatched by his boss, Sergio Roma (Sean Combs, a.k.a. P. Diddy), to fly to London and chaperone Snow to Los Angeles, where he is scheduled to perform a concert at the Greek Theater commemorating the tenth anniversary his career's apex. Snow is more interested in partying, drinking, and doing heroin than in traveling, and his attitude begins to infect the strait-laced Aaron, whose spine is made of malleable stuff. From the U.K. to New York to Las Vegas to Los Angeles, the two spar and bond as they attempt to make it to the Greek on time. Although the movie contains a few heartfelt (and, in one case, heartbreaking) scenes, it is predominantly a comedy and never forgets that. Momentum flags a little during the final 20 minutes or so; the comedic climax occurs during a madcap sequence in Vegas that features drugs, the stroking of soft fur, a fire, a chase, and "Come on Eileen" by Dexy's Midnight Runners.
Jonah Hill is Jonah Hill and Russell Brand is Russell Brand. Neither breaks new ground; they are pretty much what one expects them to be - Brand the off-the-wall lunatic and Hill the baby-faced doofus in a suit. This can be good news or bad news, depending on your opinion of the two performers. Those who don't appreciate what Hill and Brand bring to the production may find Get Him to the Greek tough going. But if you're willing to forgive Brand his prank on Andrew Sachs and take him at face value, his vein of humor enlivens the film, and Hill is the perfect foil. Get Him to the Greek is, in many ways, the modern equivalent of a very old staple: the buddy movie/road trip. On the acting side, if there's a surprise, it comes from P. Diddy, who displays a surprising aptitude for comedy. Even when sharing the camera with Hill and Brand, Diddy never backs down. In fact, there's ample support to back the assertion that he is the comedic highlight of the movie.
Despite being a spin-off from Forgetting Sarah Marshall, familiarity with the earlier film is not a prerequisite for enjoying Get Him to the Greek. Like most movies that come out of the Apatow factory, this one demands an open mind, a willingness to laugh at the obscene and profane, and an understanding that comedy can sometimes be peppered with tragedy. Get Him to the Greek is not perfect, but it works better than one might assume from the juvenile and lackluster preview.
---
Get Him to the Greek (United States, 2010)
---
Three...better movies of this genre
worse movies of this genre
Three...better movies of Jonah Hill
worse movies of Jonah Hill
Three...better movies of Russell Brand
worse movies of Russell Brand
(There are no more worst movies of Russell Brand)
Three...better movies of Sean Combs
(There are no more better movies of Sean Combs)
worse movies of Sean Combs
(There are no more worst movies of Sean Combs)