Marshall (United States, 2017)
October 14, 2017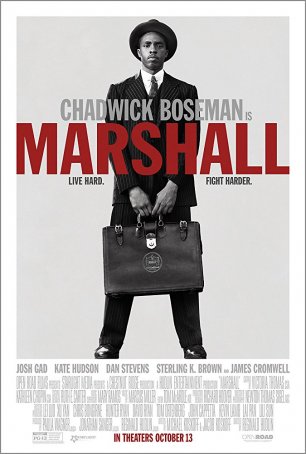 The filmmakers behind Marshall understand what it takes to make a successful bio-pic. Instead of using a "greatest hits" strategy that attempts to cram an entire life into two hours, they have targeted a single representative event from the life of 20th century icon Thurgood Marshall. By limiting the film's time frame, the narrative is allowed to breathe and, as a result, we get a distinct snapshot not only of the main character but of the setting that resulted in his becoming historically important.
The focus of Marshall is the 1941 trial of "The State of Connecticut v. Joseph Spell." At the time, Marshall (Chadwick Boseman), one of the NAACP's star lawyers, is traveling around the country litigating questionable cases with black defendants. Most are in the South but the organization, needing an influx of donations from wealthy supporters in the North, sends Marshall to Connecticut in January 1941 to team with local (white Jewish) attorney Samuel Friedman (Josh Gad). The case is steeped in racial undertones. Wealthy socialite Elaeanor Strubing (Kate Hudson) claims to have been raped multiple times and thrown over the side of a bridge by her black chauffeur, Joseph Spell (Sterling K. Brown). The case sets off a mass hysteria that results in white folk firing black servants. After speaking with Spell, Marshall is convinced of his innocence.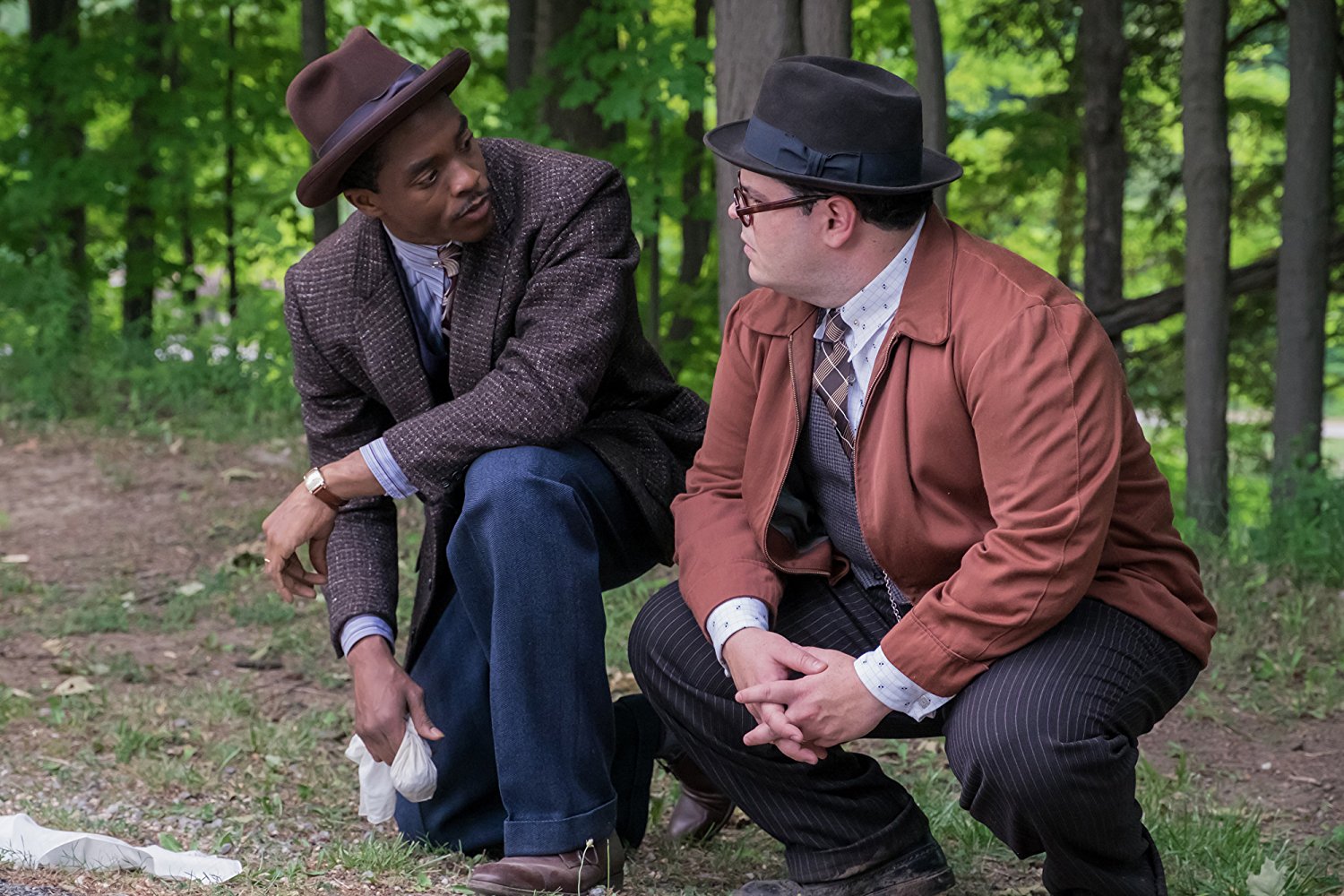 The resulting trial Is a media sensation. Prevented by Judge Foster (James Cromwell) from speaking in court because he's not a member of the Connecticut bar (he is only allowed to "silently" advise Friedman), Marshall uses written notes and facial expressions to act as Friedman's marionette. He also lets his voice be heard in the papers, giving daily speeches on the courtroom steps. The prosecutor, avowed bigot Loren Willis (Dan Stevens), is friendly with the judge and the jury looks as unfavorable as one can envision for a black man in 1941. But Marshall's investigative tenacity and Friedman's growing comfort with criminal litigation shine the light on a truth that's tragic from many angles.
"The State of Connecticut v. Joseph Spell" was not one of Marshall's most famous cases but it provides the filmmakers an opportunity to illustrate the characteristics that made him a respected lawyer and civil rights figure. Unbowed in the face of discrimination, he fights back rather than knuckling under. He is fierce and willing to go toe-to-toe with any foe. The family sacrifices he makes are shown, albeit briefly – his wife suffers a miscarriage and, rather than being at her side, he has to remain at the trial. At the time when Marshall is set, the title character is still a quarter-century away from being named as the first African-American Supreme Court Justice, but the seeds of what would lead Lyndon Johnson to nominate him are in evidence.
The movie does a little "myth busting" as well. It's widely accepted that the South was highly racist during the 1940s. It was, after all, the era of Jim Crow. ("Brown v. Board of Education", one of the cases instrumental in dismantling Jim Crow laws, was argued by Marshall in front of the Supreme Court in 1953.) However, racism was still alive and deeply-rooted in the more "progressive" North. For all of its intolerance and segregationist mindset, Greenwich might as well have been deep in Dixie as in New England.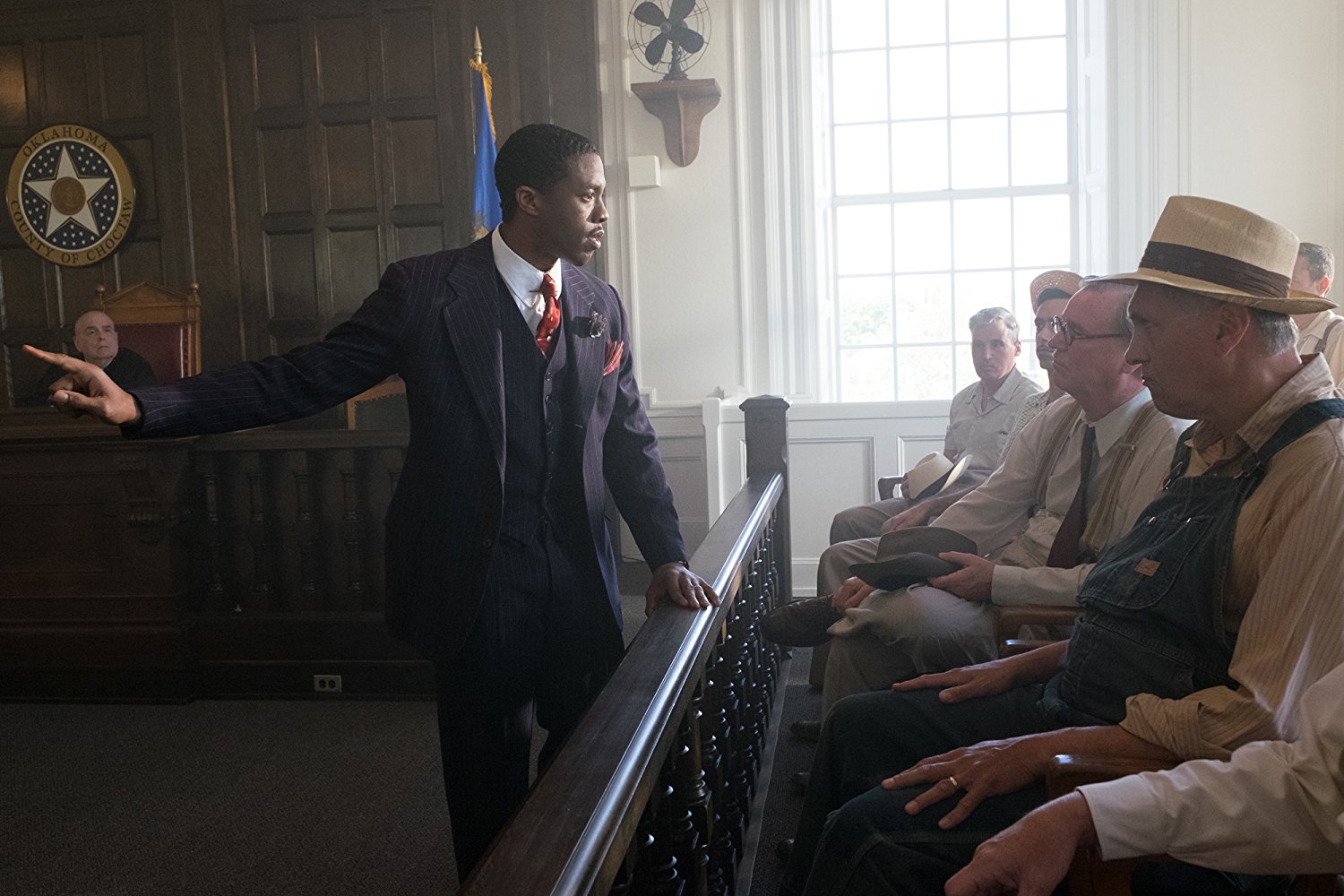 Marshall takes liberties with the historical record but the basic facts are accurate. The movie unfolds more as a courtroom drama than a traditional bio-pic and one can make an argument that it's as much about co-counsel Friedman as it is about Marshall. In fact, Friedman is the one with the discernable character arc, evolving from small-town insurance lawyer to nationally-known civil rights attorney. Marshall, already a famous and accomplished man at the outset, is little changed at the end.
This is Chadwick Boseman's third high profile bio-pic in five years (he also played Jackie Robinson in 42 and James Brown in Get on Up), an indication of how in-demand he is. In addition to playing real people, he is Black Panther, the first black superhero of the MCU. His portrayal of Marshall isn't likely to earn Boseman an Oscar nomination but the performance illustrates his versatility and force of personality (think Paul Newman during his prime). Josh Gad, known better for semi-comedic roles, acquits himself admirably in a purely dramatic part. He and Boseman evince sufficiently strong chemistry for a mismatched buddy film element to emerge. The supporting cast includes Dan Stevens (who, like Gad, is an alumnus of the live-action Beauty and the Beast), James Cromwell, and Kate Hudson.
The Thurgood Marshall I remember was an old man in black robes. When I had to learn the names of the nine Supreme Court justices for a high school civics class, his was among them. When he resigned in 1991 due to failing health, the outpouring of respect and admiration was overwhelming. Dead for a quarter-century, Marshall has become a name in history books; this movie – fiery, well-constructed, and compelling with all the twists and turns viewers like in a courtroom drama – lifts the man off the text book page and imbues him with a movie hero presence. It's engaging and inspirational but, in terms of what it reminds us of, it's also important.
---
Marshall (United States, 2017)
---

Three...better movies of this genre
worse movies of this genre
Three...better movies of Chadwick Boseman
worse movies of Chadwick Boseman
(There are no more worst movies of Chadwick Boseman)
Three...better movies of Josh Gad
worse movies of Josh Gad
Three...better movies of Kate Hudson
worse movies of Kate Hudson