See How They Run (United States, 2022)
September 15, 2022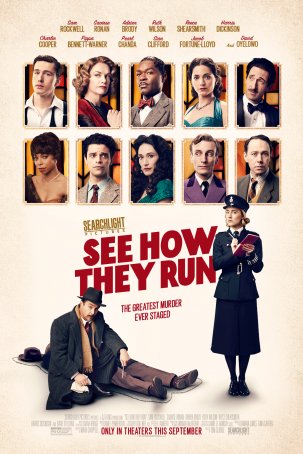 While watching Tom George's See How They Run, two references came to mind (in addition to the obvious Agatha Christie ones): the oeuvre of Wes Anderson and Rian Johnson's Knives Out. Although See How They Run isn't as head-scratchingly quirky as Anderson's films and lacks some of the panache of Johnson's murder mystery, it's doesn't take much insight to make the connections. George, a television veteran making his feature debut, takes a fairly routine whodunnit? and livens it up not with narrative twists but a corkscrew helix of fourth wall-breaking, historical references, slapstick, and self-aware clichés. Hell, the movie is even narrated by the first murder victim, whose sarcasm remains intact post mortem.
Sometimes it's possible to get a sense of a movie's quality from the cast. Although not a foolproof means of determination, it works here. The leads are Sam Rockwell at his low-key best and Saoirse Ronan, who evinces more high-strung energy than the average three-year-old. They are paired as the investigators of a back stage homicide and show the necessary qualities for mismatched partners. They get all the best lines and deliver them with the perfect dose of irony (where appropriate). Supporting players include Adrien Brody (as the first victim, Hollywood director Leo Kopernick), David Oyelowo (as dictatorial screenwriter Mervyn Cocker-Norris, who believes few crimes to be greater than improvisation), Ruth Wilson, Harris Dickinson (as a fictionalized version of actor/director Richard "Dickie" Attenborough), and Shirley Henderson (as an even more fictionalized version of Agatha Christie).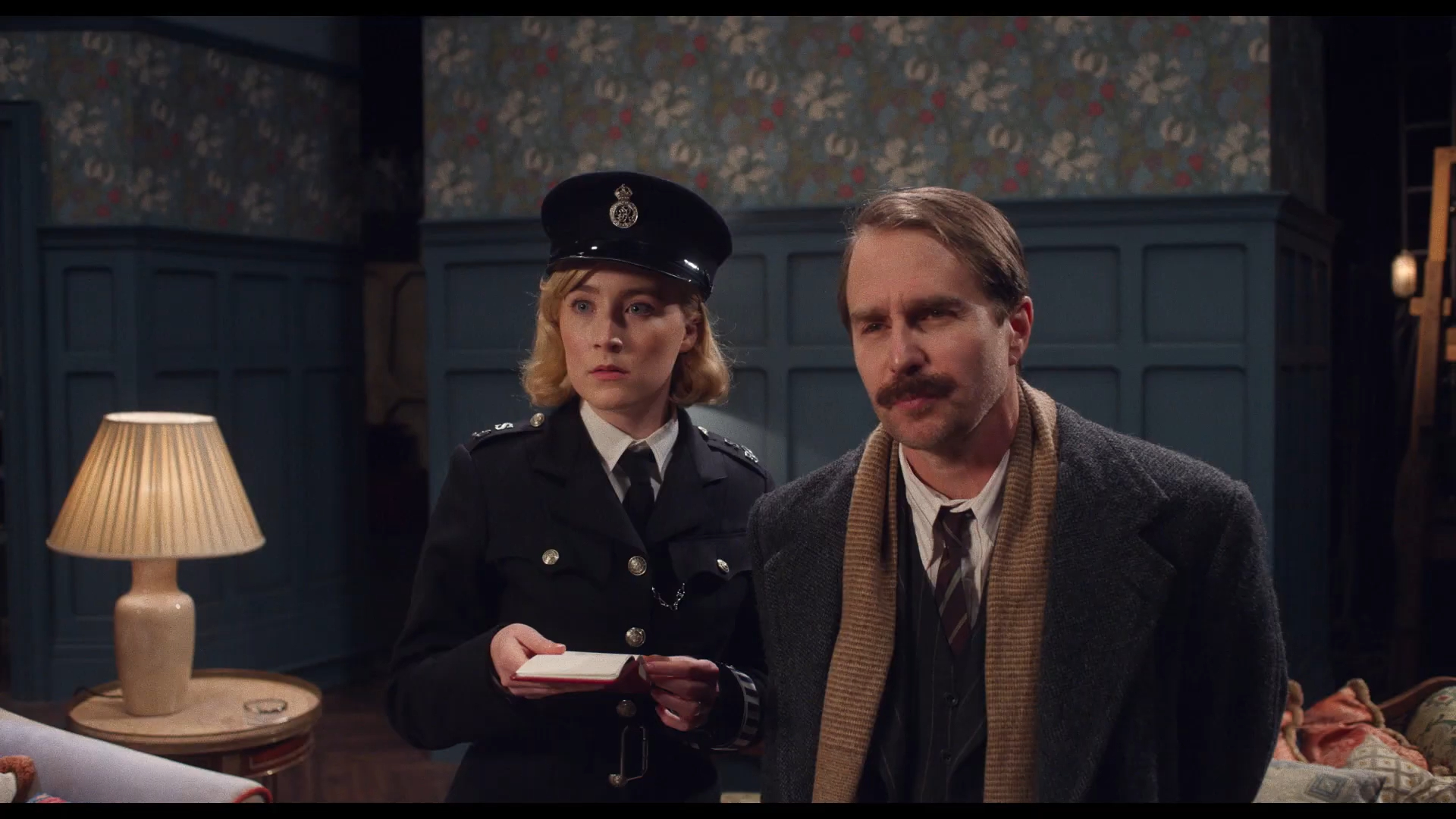 The year is 1953, the place is London, and Agatha Christie's play, "The Mousetrap" is celebrating its 100th performance. The stage-bound whodunnit? looks likely to exceed the author's expectations that it would run for about eight months. (In reality, it has run for an unprecedented 70 years, pausing only for 14 months in 2020-21 due to COVID.) Preparations are underway for a movie version but things hit a snag when the proposed director, Hollywood bad boy Leo Kopernick (Adrien Brody), is murdered behind the scenes. One of the "persons of interest" is screenwriter Mervyn Cocker-Norris (David Oyelowo), a traditionalist who despises the frenzied, dumbed-down direction preferred by Kopernick. There are others with ample motive; it's up to the veteran Inspector Stoppard (Sam Rockwell) and his overly-earnest sidekick, Constable Stalker (Saoirse Ronan), to follow the clues and unmask the villain. Her gung-ho attitude, which is in contrast to Stoppard's laconic demeanor, results in several gaffes, including the accusation of an unlikely suspect (whose red-herring nature is italicized by the way the film treats the sequence).
See How They Run does its best to balance mystery with comedy but the former comes out on the short end of the stick. Whodunnits? are notoriously difficult to make as movies, especially given the constraints inherent in the medium (the law of character conservation being the most obvious but by no means the only one). The resolution is underwhelming; anyone watching the movie with the sole purpose of learning the identity of Kopernick's killer is apt to be unsatisfied by the ending. Fortunately, the chief pleasure of George's feature is the journey, not the destination. We're here to experience to twists and turns of the investigation not what it ultimately uncovers.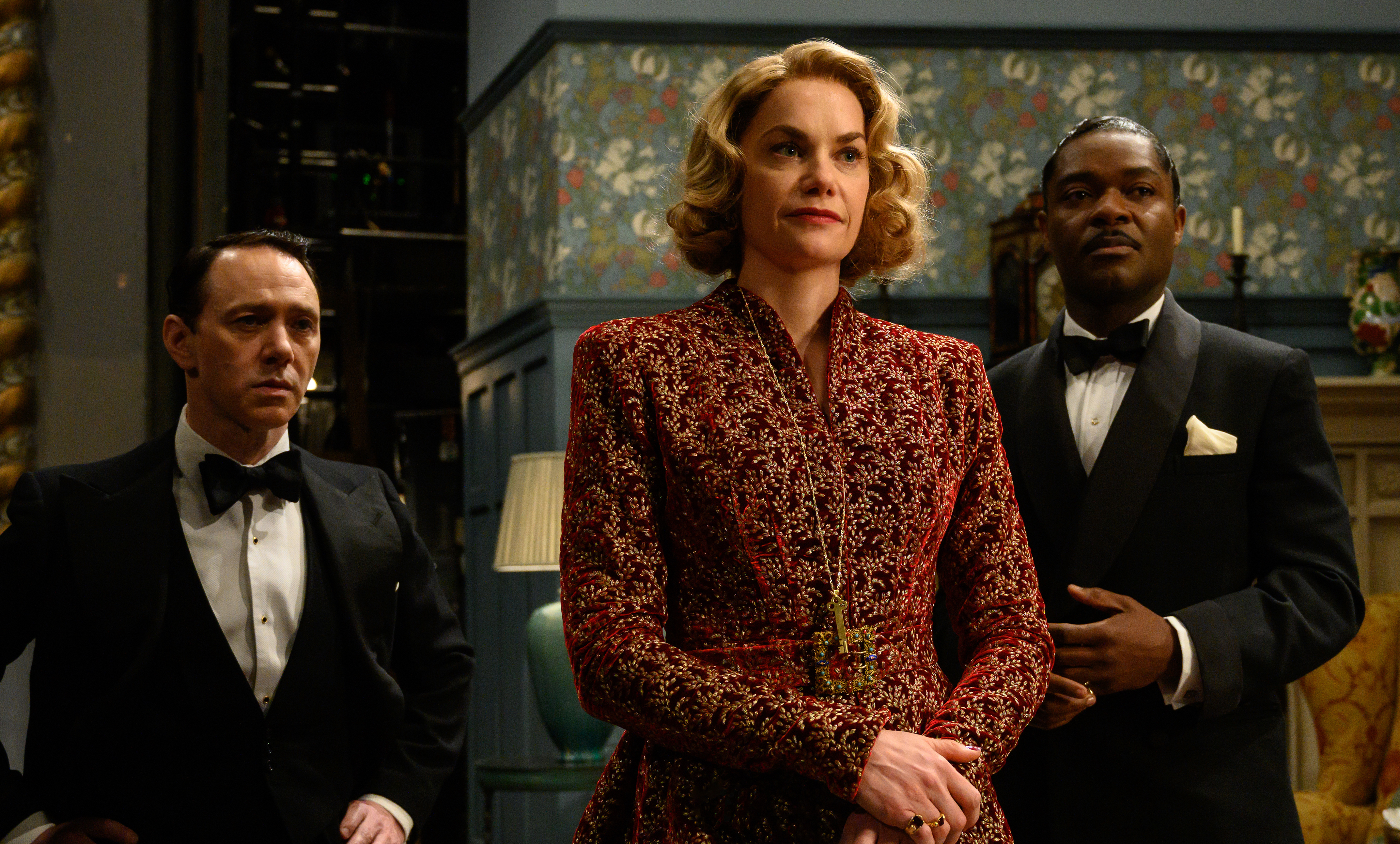 Those with a familiarity with Christie's "The Mousetrap" will find a few Easter eggs to enjoy. The screenplay was written with mystery fans in mind; it includes numerous tongue-in-cheek references to common tropes. In terms of humor, See How They Run is more amusing than outrageous. Outside of the few instances of slapstick and physical comedy, it is designed to generate smiles (rather than provoke belly laughs). The script is clever and silly at the same time. (That may seem contradictory but it's not.)
See How They Run isn't viewed as an Oscar contender (the mid-September release date is an indicator of that) and, although I enjoyed the work of Rockwell, Ronan, Brody, and Oyelowo, none are going to be on anyone's short list come year's end. Nevertheless, during a time when the box office is barren, this movie provides more entertainment than most of what's available and, at an economical 98 minutes, it never threatens to overstay its welcome. An engaging parfait, it may struggle during its theatrical release but should find an audience once it's available for home viewing.
---
See How They Run (United States, 2022)
---
Three...better movies of this genre
(There are no more better movies of this genre)
worse movies of this genre
(There are no more better movies of this genre)
Three...better movies of Sam Rockwell
worse movies of Sam Rockwell
Three...better movies of Saoirse Ronan
worse movies of Saoirse Ronan
Three...better movies of Harris Dickinson
(There are no more better movies of Harris Dickinson)
worse movies of Harris Dickinson