tick...tick...Boom! (United States, 2021)
November 18, 2021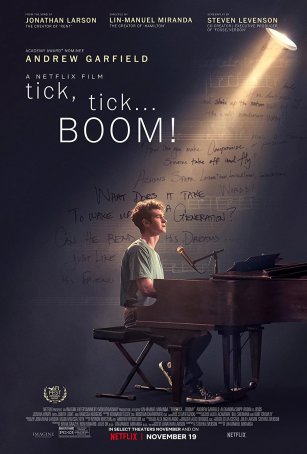 What a year 2021 has been for Lin-Manuel Miranda. In addition to having one of his stage plays (In the Heights) transformed into a movie, he has also enjoyed major involvements in two animated films (Vivo for Netflix and Encanto for Disney) and makes his directorial debut with this production, tick…tick…Boom!, a big-screen adaptation of Jonathan Larson's semi-autobiographical play of the same name. Made before Larson (Andrew Garfield) became a "name" because of Rent (he died of an aortic aneurism the day before its off-Broadway premiere), tick…tick…Boom! chronicles the difficulties encountered by the musician/playwright as he struggles to realize his dream. In addition to focusing on the ups and downs of his professional life, it illustrates his relationships with his lover, Susan (Alexandra Shipp), and his gay best friend, Michael (Robin de Jesus).
tick…tick…Boom! is entertaining but unremarkable. (Only one of the musical numbers, "Come to Your Senses," is in any way memorable.) It features a capable lead performance from Andrew Garfield (who's a better actor than singer) and solid work from the ensemble supporting cast, but there are no surprise Oscar nominees lurking here. Miranda does a workmanlike job behind the camera, although most of his shot selections are conventional. Still, he understands this kind of musical, which relies on singing more than dancing (this isn't a Busby Berkeley-inspired production chock full of big numbers). The surprisingly intimate result is enjoyable in the moment but the mental footprint fades rather quickly.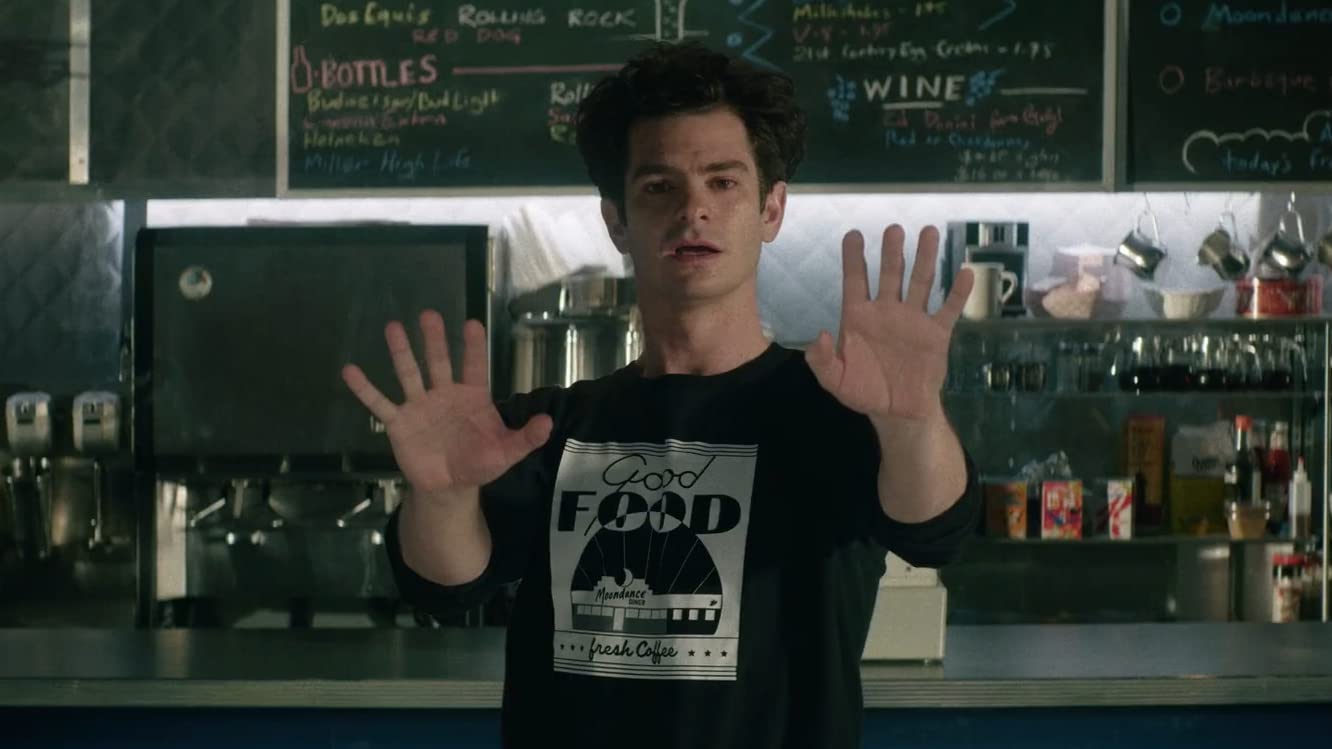 Miranda and Steven Levenson, who adapted the script from David Auburn's reworking of Larson's "rock monologue," start the movie with the framing device of having Larson perform "tick…tick…Boom!" in front of a live audience at the New York City Theater Workshop. This provides a gateway into the musical "reality" of Larson's life two years earlier when, in 1990 as a struggling-but-promising talent wandering around Soho, he is readying his sci-fi musical "Superbia" (based on 1984) for Prime Time. One song eludes him and, in its pursuit, he drives away both Susan and Michael. With his 30th birthday approaching, he feels time ticking away, noting that his hero, Stephen Sondheim, had his first major hit (West Side Story) at age 27.
Narratively, there's nothing striking about Larson's life. He's like many artists: driven, obsessed, broke, and perhaps a little naïve about the chances of a small fish in a big pond. The tragic irony of his life (as noted at the end of the film) is that he had his greatest success after he left it. Adding music and a light touch to the proceedings, the filmmakers craft a bio-pic that doesn't feel like it's painting by numbers. tick…tick…Boom! has the level of energy one might expect from the title. There's a rambunctiousness that isn't neutered by the constraints of its being based on someone's life.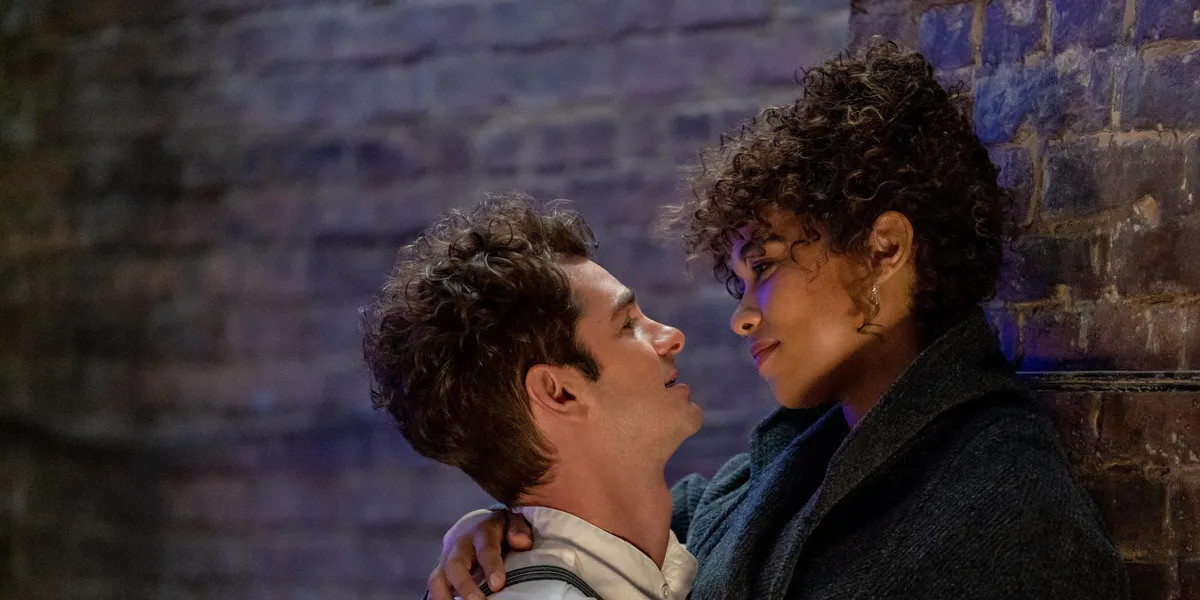 Physically, Andrew Garfield bears a passing resemblance to Larson. His voice, although not Broadway quality, is sufficient for the job. There are thirteen vocal tracks – two of which were cut from the original stage show but added back in – and Garfield sings on nine of those, so there's nowhere for him to hide. The rest of the cast is comprised of interesting names, such as Vanessa Hudgens and Joshua Henry as singers, Judith Light as Jonathan's agent, and Bradley Whitford as Sondheim. There are also a bunch of cameos (mostly anonymous to anyone who's not a Broadway die-hard).
Of the four Miranda-related projects to have emerged during 2021, this is the only one not to feature anything he has written, but it represents an opportunity to pay tribute to his fellow New York City composer – someone he never met but whose work was influential in his development as an artist. (He played Jonathan on-stage in 2014, just before hitting it big with "Hamilton.") Given the opportunity to direct the movie, he jumped at it. The Netflix platform allows tick…tick…Boom! to be released without box office pressure so this can exist as an homage to a talented man who didn't live to see his 36th birthday.
---
tick...tick...Boom! (United States, 2021)
---
Three...better movies of this genre
worse movies of this genre
Three...better movies of Andrew Garfield
worse movies of Andrew Garfield
Three...better movies of Alexandra Shipp
worse movies of Alexandra Shipp
(There are no more worst movies of Alexandra Shipp)
Three...better movies of Robin de Jesus
(There are no more better movies of Robin de Jesus)
worse movies of Robin de Jesus
(There are no more worst movies of Robin de Jesus)