Victoria and Abdul (United Kingdom/United States, 2017)
September 28, 2017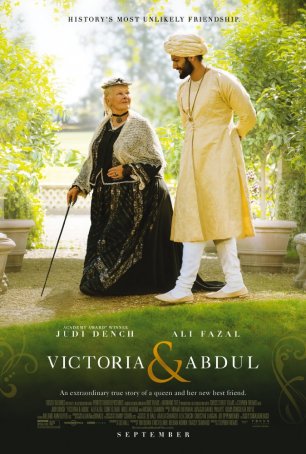 Victoria and Abdul, based on (mostly) true events as related in Shrabani Basu's historical chronicle of the same name, is effectively a sequel to the 1997 film, Mrs. Brown. That movie, directed by John Madden, detailed Queen Victoria's friendship with Scottsman John Brown – a relationship that lasted from shortly after the death of her husband, Albert, until Brown's demise in the early 1880s. Victoria subsequently met Abdul Karim (Ali Fazal) in 1887 and the two would remain close until her death in early 1901. Both Mrs. Brown and Victoria and Abdul star Judi Dench as the queen and her performance provides the strongest element of continuity. Also, because Dench aged 20 years between the movies, she has little difficulty playing an older, wearier Victoria. Dench's portrayal is, hands-down, the best thing about Stephen Frears' film.
The tone, as is often true of the director's work, is lighthearted without being frivolous. He deals with some difficult subjects – in particular the cultural racism that existed in England (and, indeed, across the world) against those of dark skin. The close friendship between the queen and her Muslim Indian servant was deemed scandalous by all of her advisors not only because of the class difference but because of his race. Some have said that nothing did more to rehabilitate John Brown's reputation than the queen's attachment to Abdul.
Frears doesn't cloud the racist nature of the court's objections to Abdul but, by making many of the principals bloated, self-important, fatuous asses, he illustrates how ridiculous their opposition is. Outside of Victoria, Abdul, and perhaps a few others, no one looks good in Frears' portrayal. The only one to appear noble and good-hearted is Victoria. Abdul's presentation is nuanced. Although he is mostly seen as a true friend to the queen, there are inklings of selfish motivations. He isn't always truthful and there are scenes in which Ali Fazal presents him almost as an Indian Rasputin, complete with piercing eyes. History argues there was a strong element of opportunism in his rise. Victoria and Abdul acknowledges this when the queen hears the accusation and remarks "How is that different from any of the rest of you?" but it is generally downplayed.
The movie consists of three basic elements: exploring the racism of the age, showing the behind-the-scenes details related to royalty that outsiders are never privy to, and developing the friendship between the old queen and the young Indian. There's backstabbing and double-dealing but the queen, who has been at this for 60 years, knows how to play the game better than her advisor and her son, Bertie (Eddie Izzard), who would eventually become King Edward VII. There's also an element of suspense regarding what happens to Abdul once Victoria dies because, outside of the queen, he has no high-placed supporters in England and few dislike him more than The Prince of Wales.
When we first meet Abdul, he's busy doing his job at a prison in India, where he catalogues the essential information about the inmates. He is given the honor of traveling to England with another Indian, Mohammed (Adeel Akhtar), to present Queen Victoria with a commemorative coin. Abdul and Mohammed view the journey differently with the former seeing it as an honor and the latter perceiving it as an unwanted intrusion. At the palace, the visitors are given explicit instructions about the do's and don'ts of approaching the queen; rule #1 is not to look her in the eye – something Abdul does and, in doing so, attracts her attention. Rather than being reprimanded, however, he is asked to stay and eventually elevated to the position of clerk. Then, as Victoria and Abdul grow closer, she asks him to teach her about his country, language, and religion. She begins to refer to him as "The Munshi" (a teacher and master of languages), a title that enflames the universal disdain among Victoria's advisors for the Indian visitor.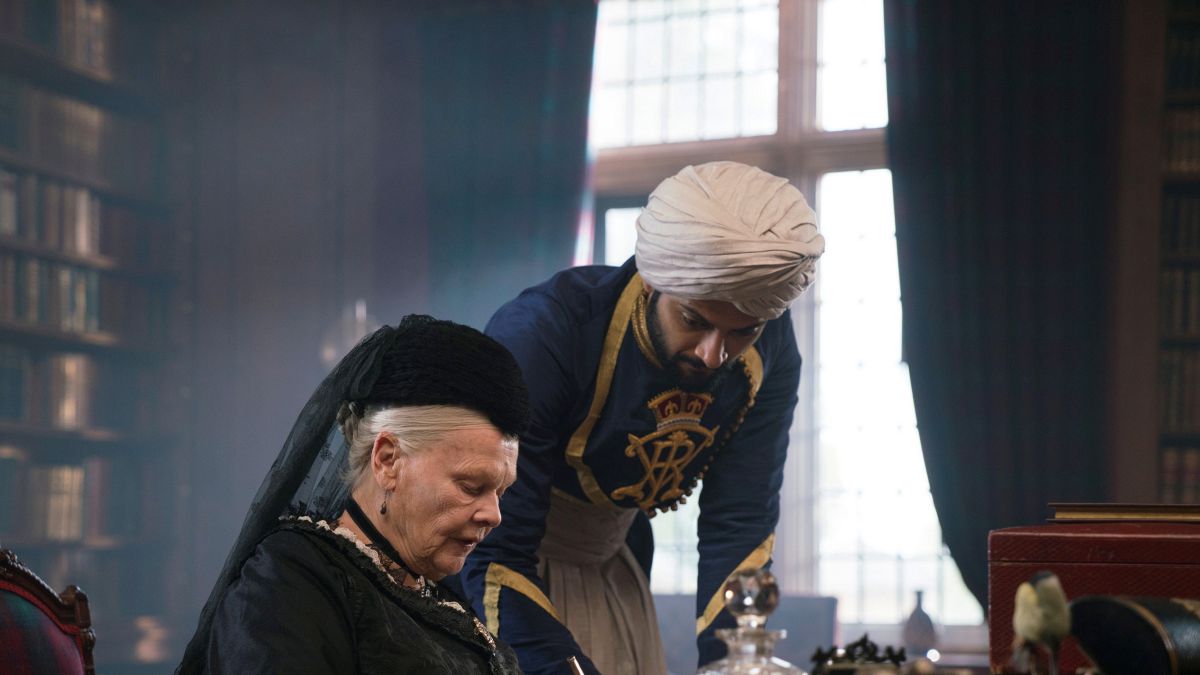 Judi Dench plays a version of the Victoria she essayed in Mrs. Brown. Here, she has become worn-down and disillusioned by life. Despite enjoying immense power, Dench's Victoria is a tragic figure; the reverence is such that she is disallowed basic human contact and things like friendship and love are, if not denied, at least discouraged. It's an open question whether Victoria would have developed bonds with "undesirables" like Brown and Abdul had she not been surrounded by opportunists and sycophants. She found in these men something no one else was able or willing to give her: a friendly ear, frank words, and an emotional connection.
Fazal's interpretation is layered. He chooses not to play Abdul strictly as a good man who becomes the target of a massive racist campaign. Fazal's Abdul is a mixture of shrewdness and naivete. And, although his devotion to the queen is never in question, there is, as I mentioned above, an almost Rasputin-like quality that emerges as he works to win Victoria's favor. Many of the supporting roles are played by respected British actors. Olivia Williams is Baroness Churchill (Winston's mother). Michael Gambon is Lord Salisbury, the P.M. Also appearing are Simon Callow, Eddie Izzard, and Tim Pigott-Smith.
Frears hasn't just made an historical recreation; he has made a movie containing a message with universal implications for all places and times when racism rears its head. Victoria and Abdul isn't about "punishing" racists but about showing the foolishness of demeaning others purely on the basis of skin color or cultural/religious differences. Frears isn't just telling a pleasant story about an unusual friendship; he's asking us to take a look at whether we have advanced as far in 120 years as we believe we have. The question lingers after the movie is over.
---
Victoria and Abdul (United Kingdom/United States, 2017)
Run Time: 1:52
U.S. Release Date: 2017-09-29
MPAA Rating:
"PG-13" (Adult Themes)
Genre:
Drama
Subtitles: none
Theatrical Aspect Ratio: 2.35:1
---

Three...better movies of this genre
worse movies of this genre
Three...better movies of Judi Dench
worse movies of Judi Dench
Three...better movies of Ali Fazal
(There are no more better movies of Ali Fazal)
worse movies of Ali Fazal
(There are no more worst movies of Ali Fazal)
Three...better movies of Olivia Williams
worse movies of Olivia Williams