Movies starring Amanda Plummer 8 1/2 Women
No one will ever mistake iconoclast director Peter Greenaway for a mainstream filmmaker. In tone, style, and themes, his movies contrast starkly with almost everything else available in the motion picture industry. Greenaway, whose films include ... Freeway
What happens when you cross The Brothers Grimm with David Lynch, and throw in a little Quentin Tarantino for good measure? The result, or something very much like it, can be found in Matthew Bright's brilliant, incisive satire, Freeway, which upda... Joe vs. the Volcano
John Patrick Shanley made a name for himself by scripting Moonstruck, the award- winning 1987 romantic comedy starring Cher and Nicolas Cage. Joe Versus the Volcano, a provocatively-titled, modern day fable, is his fourth script and first oppor... Prophecy, The
Every once in a while, someone gets the bright idea of making an apocalyptic horror film. The Omen series is probably the best-known example of this sub-genre, but it's not the only one. Now, The Prophecy, with its tale of warring angels and lost...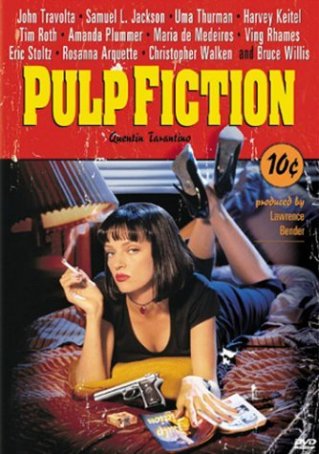 Pulp Fiction
Pulp (pulp) n. 1. A soft, moist, shapeless mass of matter. 2. A book containing lurid subject matter, and being characteristically printed on rough, unfinished paper. "The path of the righteous man is beset on all sides by the inequities of...