Movies starring Charles Dutton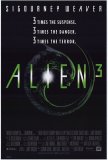 Alien 3
First, there was the creepy horror of Ridley Scott's atmospheric Alien. Then, some six years later, James Cameron took elements from the first and crafted one of the best science fiction/action films of all time: Aliens. After two such superior... Cookie's Fortune
Cookie's Fortune deserves to be appreciated on its own terms. A less-ambitious outing from veteran director Robert Altman (at least when compared to movies like Nashville, The Player, and Short Cuts), this movie delivers agreeable performances and... Cry, the Beloved Country
Most films focusing on the racial division of South Africa are framed around a mood of seething anger and tension. The inequities of the recently-abolished apartheid system have provided fuel for a series of motion pictures steeped in bitterness a... Q&A
Q & A is testimony to the validity of the old adage: a good story, when well told, can never be told too many times. With this movie, director Sidney Lumet doesn't bring anything radical to the screen. The premise - a decorated cop discovered to ...