Movies starring Chris Klein American Dreamz
Is it possible to satirize something that, in and of itself, often crosses the line into self-parody? That's a question that American Dreamz attempts to address. The objects of Paul Weitz's lampoon are two ripe ones: American Bush and American Id... American Pie
With American Pie, it's a case of the reality of the situation being dwarfed by the hype. Word of mouth has this pegged this as the most raunchy movie of the summer - a film that embraces taboos and pushes the limits of the MPAA's R rating (indeed... American Pie 2
In the case of American Pie, more is less. As in less funny, less sexy, and much, much less enjoyable. This sequel, like so many that have preceded it this year, exists exclusively because its forerunner made a lot of money - and the lack of insp...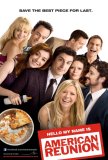 American Reunion
American Pie remains a touchstone of '90s comedies in particular and raunchy teen sex comedies in general. Viewed today, it has retained an element of its initial breezy freshness, although a progression of envelope-pushing comedies have made it ea... Election
Election becomes the first droplet in the recent deluge of teen comedies to score a palpable hit. In the wake of Can't Hardly Wait, She's All That, Never Been Kissed, and about a dozen others, Election arrives like a desperately needed cool breez... Here on Earth
Note to readers: this review contains spoilers. Those who wish to see Here On Earth without having previous knowledge of certain plot elements would do well to bail out now and return after they have seen the film. They say that anything can h... Just Friends
After watching a movie like Just Friends, I hurry home from the theater and take a shower so I can wash away the stink of the experience. There are bad movies and annoying movies, and this one contains elements of both. Spending 90 minutes with t...