Movies starring Dina Meyer Dragonheart
In the early summer sweepstakes, Warner Brothers has weighed in with Twister, Paramount with Mission Impossible, and now Universal with Dragonheart, director Rob Cohen's swords-and-sorcery saga. No prizes for guessing which is most likely to be th... Saw
Saw is for hard-gore horror aficionados only. To appreciate Saw in its full gory, you have to have a penchant for productions that bask in the traditions of the Grand Guignol. While most of the film relies more on psychological tension and terror...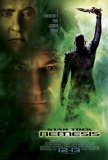 Star Trek: Nemesis
Is this the end of Star Trek? Has the long-running TV/film franchise finally reached the point where it can no longer seek out new life and new civilizations? After defeating Klingons, Romulans, and Borg, will the ultimate enemy – the multiplex... Starship Troopers
Whenever a motion picture tackles a literary classic of any genre, fans of the written work hold their collective breaths, hoping for the best, but dreading the worst. On rare occasions, something like The Godfather emerges -- a movie that not onl...