Movies starring Jada Pinkett Smith Matrix Revolutions, The
The Matrix Revolutions represents a disappointing way for the science fiction trilogy to bow out. Overlong and underwhelming, The Matrix Revolutions reinforces the thinking that it's a rare movie series in which the final chapter is the stronges... Reign over Me
Reign Over Me has the best of intentions but, despite its desire to show how the perseverance of a good man can produce profound results, it bungles the attempt. This is a shameless and clumsy tearjerker - a film that inadvertently comes across as...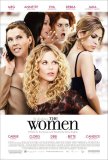 Women, The
The Women is appropriately named. For its nearly 110 minute running time, there's nary a man to be found, not even in the background of crowd scenes. This movie takes place in the same world as Sex and the City, where there are only three things ...