Movies starring Richard Crenna
Body Heat
Body Heat is Lawrence Kasdan's directorial debut. His role behind the camera was earned in large part because of his writing contributions to The Empire Strikes Back and Raiders of the Lost Ark, two of the biggest movies of the early '80s. And, i...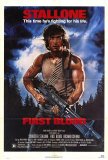 First Blood
When one thinks about Sylvester Stallone, two characters come to mind: Rocky and Rambo. However, while the underdog pugilist is the Italian Stallion's best-loved screen alter-ego, during the '80s, Stallone was more strongly identified with the ex-... Jade
Jade is for cinematic anglers. There are a lot of fish inhabiting the murky, muddy waters of Joe Eszterhas' latest script, and, except for the occasional shark or two, most of them are herrings -- red herrings, to be precise. However, unlik... Sabrina
These days, Hollywood seems to be almost entirely bankrupt of new ideas. For bursts of inspiration or innovation, the movie-goer increasingly has to seek out independent motion pictures. What we are getting more and more from the big studios is a...