Movies starring Chazz Palminteri Analyze This
The greatest asset evidenced by Harold Ramis' gangster comedy, Analyze This, is that it doesn't try too hard for laughs. Instead of force-feeding audiences stale, predictable jokes about mobsters and mayhem, Ramis is content to let the humor evolv... Bullets over Broadway
Sure as the turning of the leaves, this time of the year, fresh with the scent of Oscars to come, brings the release of a new Woody Allen motion picture. Two years ago, his Fall contribution was Husbands and Wives. Last year, it was Manhattan Mur...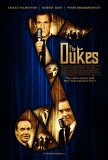 Dukes, The
In recent years, I have complained about the inability of movies to close strongly. Numerous films with promising beginnings and middles have fallen apart at the end. Thankfully, that's not the case with The Dukes, where a satisfying final half-h... Guide to Recognizing Your Saints, A
A Guide to Recognizing Your Saints illustrates that it's still possible to do something interesting with a familiar premise. Writer/director Dito Montiel, who has based the film on his memoirs, tells the story of a man who escaped from his "old" n... Hurlyburly
Hurlyburly is a talky film - the entire movie is constructed around lengthy sequences of dialogue where the characters talk and talk and talk, often saying nothing. However, because the vocal rhythms are so perfect, the words are so well-chosen, a... Jade
Jade is for cinematic anglers. There are a lot of fish inhabiting the murky, muddy waters of Joe Eszterhas' latest script, and, except for the occasional shark or two, most of them are herrings -- red herrings, to be precise. However, unlik...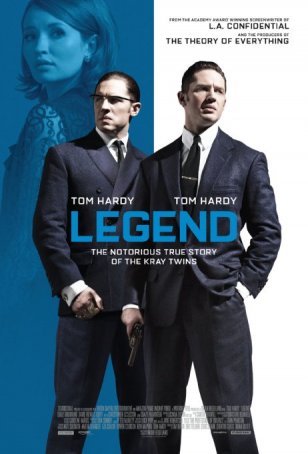 Legend
For writer/director Brian Helgeland (Payback), Legend represents a visit to Scorsese territory; sadly, the result falls far short of the visceral experiences we typically are accorded by the legendary Oscar winner. Granted, it's a tall order to... Mulholland Falls
Following several release delays, Mulholland Falls has finally reached theaters. Usually, when a distributor keeps putting off a film's opening, it's a sign that there's something wrong with the production, and, about halfway through Mulholland Fa... Running Scared
Running Scared feels like Tony Scott on barbiturates. From tone to approach, it's like a Scott-helmed movie, but the tendency to show off is limited, the camera movements are less frantic, and the editing occasionally allows shots to last for more... Usual Suspects, The
The "usual suspects" are five men: Dean Keaton (Gabriel Byrne), an ex-cop-turned-crook who's known for his steely demeanor and nerves of iron; Michael McManus (Stephen Baldwin), a psycho entry man; Todd Hockney (Kevin Pollak), a hardware specialis...