Movies starring Sandra Oh Night Listener, The
The Night Listener is an eerie, occasionally disturbing motion picture focused on the differences between perception and reality. The film exists in the gray area separating drama from psychological thriller, although the mood is in many ways more...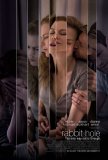 Rabbit Hole
Numerous movies about grief miss the mark by a wide margin, sliding down a slippery slope of schlocky melodrama with overacting performers failing to convince us that their tears are real. Every once in a while, however, a film gets it right. In ... Sideways
Sideways is from Alexander Payne (Election, About Schmidt), whose films simultaneously satirize and observe life in America. Unlike David Lynch, who uses saws and butcher knives to dissect the American dream, Payne prefers a scalpel. Lynch often ri...