Movies starring Wilford Brimley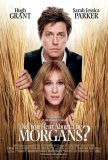 Did You Hear about the Morgans?
Did You Hear about the Morgans? Yes and, to be perfectly frank, I wish I had been spared the experience. I'm gullible. I'll buy just about any premise Hollywood is selling, provided it is sold well. Did You Hear about the Morgans? proves thes... Firm, The
Mitchell Y. McDeere (Tom Cruise) has just graduated in the top five of his class from Harvard Law School. With a record like his, there are understandably a lot of people interested in employing him. Offers abound from the large, the prestigious,... Natural, The
Sometimes, pure technical accuracy isn't enough. Sometimes, artistry has to be taken into account. One such case in point is Barry Levision's The Natural, arguably the best baseball movie ever made. The film works not because it is flawless in i... Thing, The
When it was released in 1982, John Carpenter's remake of Howard Hawks' 1951 science fiction classic The Thing from Another World spurred much debate about not only which film was more effective but whether Carpenter's version fit better into the sc...