Movies with cinematographer Alexander Gruszynski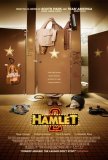 Hamlet 2
Hamlet 2 (a great title) does not represent the first time in recent years that something unconventional has been done to one of the Bard's classics. (Although, to be sure, no one has been as audacious as to develop a musical sequel to a play.) S... Nancy Drew
Nancy Drew is an effective translation of the source material, but that's not necessarily a good thing. The popular written series has been a staple for young female readers since the first books were published in the 1930s, and the movie will pro... Tremors
Tremors is one of those rare motion pictures that fails during its theatrical run but finds new life on video. Examples of this can be found dotted throughout the VHS/DVD era of cinema (post-1983) but few are as dramatic as in this case. It's not ...