Movies starring Max Thieriot Astronaut Farmer, The
"To dream the impossible dream… This is my quest, to follow that star, no matter how hopeless, no matter how far… To reach the unreachable star." Perhaps no sentiment better expresses what The Astronaut Farmer conveys than those lyrics by Jo...
Chloe
Since imprinting his name on the international indie box office with his mid-'90s one-two punch of Exotica and The Sweet Hereafter, Toronto-based filmmaker Atom Egoyan has been struggling to regain his footing. In one way or another, his last few ...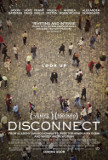 Disconnect
Disconnect, Henry Alex Rubin's meditation on how we communicate in the age of electronics and social media, is a deeply flawed motion picture containing moments of brilliance that illustrate its strong thematic content. A triptych of tales connecte... Jumper
One of the cardinal rules when making a motion picture about a superhero, especially one no one has heard of, is not to make the integrity of the story depend on the existence of a sequel. Unfortunately, that's a rule that director Doug Liman brea... Nancy Drew
Nancy Drew is an effective translation of the source material, but that's not necessarily a good thing. The popular written series has been a staple for young female readers since the first books were published in the 1930s, and the movie will pro... Pacifier, The
Pacifiers are for infants. The same is true of The Pacifier. In fact, "infantile" may be the best single word to describe this Kindergarten Cop wannabe. Vin Diesel is better than the material, but, no matter how hard he tries, he can't rise abov...