Movies starring Fred Ward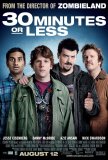 30 Minutes or Less
It would be possible to form a tragedy from the background inspiration of Ruben Fleisher's 30 Minutes or Less, but the filmmakers have not traveled that route. Instead of fashioning a heartbreaking tale about greed and inhumanity, Fleisher has app... Dangerous Beauty
Dangerous Beauty is a lavish historical melodrama that has enough suds, sex, and flashes of flesh to appeal to soap opera-lovers and enough substance to attract those of a more intellectual bent. However, while the movie does more than pay lip... Enough
Michael Apted is one of those rare, versatile filmmakers who can make mindless Hollywood blockbusters and thoughtful independent productions with equal aplomb. Apted's resume is as impressive as it is diverse, and has included a handful of critica... Feast of Love
It's a little surprising to encounter a film like Feast of Love in multiplexes, because it is made for adults. After a summer of pyrotechnics and incredibly dumb scripts, it's a change of pace to find something that aspires to run for 100 minutes w... I Could Never Be Your Woman
Considering the talent involved - writer/director Amy Heckerling (Clueless) and actors Michelle Pfeiffer and Paul Rudd - I Could Never Be Your Woman could contend for the most high-profile motion picture yet to take the direct-to-DVD route. This w...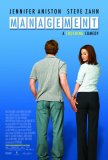 Management
Since the demise of Friends, Jennifer Aniston has been desperately striving to find her motion picture niche. Despite having started her fifth decade of life (in an industry that is not kind to actresses over 40), she remains a bankable name, even... Road Trip
In the 1980s, Porky's spawned an era of teen sex comedies that took most of the decade to die out. Last year, American Pie re-invented the genre, albeit with more wit, moxie, and forthrightness than anything in the '80s ever showed. Todd Phillips... Tremors
Tremors is one of those rare motion pictures that fails during its theatrical run but finds new life on video. Examples of this can be found dotted throughout the VHS/DVD era of cinema (post-1983) but few are as dramatic as in this case. It's not ...