Movies with cinematographer David Watkin Chariots of Fire
Sporting events today have become rancorous, angry affairs where the motto, more frequently than not, is "win at all costs." Exhibitions of good sportsmanship are about as rare as selflessness. Everyone is out for themselves, and the displays... Jane Eyre
In an era when movies are again turning to classic literature for inspiration, it was only a matter of time before a new version of Charlotte Bronte's Jane Eyre reached the screen. One of the best-loved of all the Victorian novels, Jane Eyre combi... Night Falls on Manhattan
Into the calm before the box-office storm of The Lost World rises Night Falls on Manhattan, Sidney Lumet's triumphant return to worthwhile movie-making. The director of such memorable films as Serpico, Dog Day Afternoon, and Network has been in a ...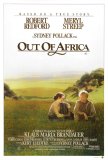 Out of Africa
Watching Out of Africa a quarter of a century after its release, it's almost impossible to guess how it won the Oscar for Best Picture. There's little doubt that this is a feast for the eyes and ears. The pairing of John Barry's lush score with D... This Boy's Life
This Boy's Life is based on the autobiographical book by Syracuse University professor Tobias Wolff. It tells of his early life in Salt Lake City, Seattle, and Concrete, Washington. Tobias (Leonardo DiCaprio) and his mother, Caroline (Ellen Barki...