Movies with cinematographer Donald Peterman How the Grinch Stole Christmas
For more than three decades, How the Grinch Stole Christmas has been a holiday season television staple. The 22-minute cartoon, based on the book by Dr. Seuss and narrated by Boris Karloff, has enchanted multiple generations of children (not to me... Men in Black
Have you ever seen a tabloid headline like this: "Woman gives birth to son of six-headed alien"? Men in Black, the new science fiction comedy from cinematographer-turned-director Barry Sonnenfeld (Get Shorty), postulates that such stories are not... Planes, Trains and Automobiles
Planes, Trains, and Automobiles, a 1987 feature from John Hughes, represented something of a watershed in the career of the prolific writer/director/producer. Prior to this film, Hughes had been known for his contribution to the popular '80s genre...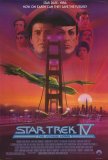 Star Trek IV: The Voyage Home
I remember the first time someone told me about the premise for Star Trek IV: The Voyage Home -- that the crew of the former Enterprise would travel back in time to retrieve a pair of humpback whales. Described thus, it sounds abysmally bad, s...