Movies directed by Don Roos Bounce
Bounce delivers exactly what viewers expect from a romance: two people who meet under unusual circumstances fall in love, then are pushed apart by complications before finding each other again. There are no surprises, twists, or unexpected turns ... Happy Endings
Happy Endings is one of those ensemble films where several stories are told in parallel with occasional intersection points to keep them from being unconnected. Sometimes, as in the case of Crash, the approach works. Sometimes, as in the case of Ha... Opposite of Sex, The
The turning point in Christina Ricci's career came when she chose to appear in Ang Lee's The Ice Storm. Since then, nothing has been the same for the up-and-coming performer. Before the 1997 feature, Ricci had turned up in host of bland, family-o...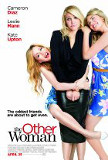 Other Woman, The
We have reached the Season of Natalie Portman. With no fewer than six movies due to be released within a six-month period (Black Swan, The Other Woman, No Strings Attached, Hersher, Your Highness, Thor), a confirmed Golden Globe nomination (and pro...