Movies with screenplay written by Kevin Williamson Cursed
Cursed is a good title for this film, which has been beset by problems from the outset. The version finally reaching theaters in February of 2005 likely bears little resemblance to what producer/writer Kevin Williamson and director Wes Craven init... Scream
Scream is a rarity: a horror movie spoof that succeeds almost as well at provoking scares as laughs. That's because director Wes Craven (A Nightmare on Elm Street), in addition to having a genuine affection for the genre, understands how wildly... Scream 2
Scream 2 isn't quite as clever as its predecessor, but it fills the gap with a cutting wit. Death -- even gruesome, bloody death -- can be funny if handled the right way (some will be offended by this statement, but you need look no further than P... Scream 3
They say the third time's a charm. In the case of the Scream movie series, the Wes Craven/Kevin Williamson collaboration credited for having revived the slasher genre in the '90s, this cliché proves to be a falsehood. The most recent (and hopefu...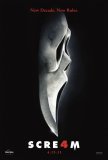 Scream 4
Eleven years after Sidney Prescott (Neve Campbell) and her posse last tangled with a mad slasher/killer, the Scream series has been exhumed. Ignoring or forgetting that the final part of the original trilogy, Scream 3, underwhelmed in terms of pop...