Movies with screenplay written by Mark Protosevich Cell, The
New Line Cinema faces a monumental feat in attempting to market The Cell, a decidedly non-mainstream serial killer thriller that has the sensibilities of an art film. Visually enticing and intellectually demanding, The Cell takes viewers deep into... I Am Legend
I Am Legend, the third cinematic adaptation of Richard Matheson's novel, has been in development for a very long time. Originally slated to star Arnold Schwarzenegger and be directed by Ridley Scott, this movie has kicked around for so long that b...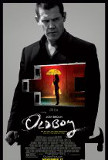 Oldboy (2013)
Sometimes I don't understand the Hollywood mindset. Who thought remaking Park Chan-wook's 2003 cult classic, Oldboy, was a good idea? Because of the story's sheer perversity, there's no possible mainstream appeal in this new interpretation. The mov... Poseidon
Irwin Allen would be proud. Poseidon is a throwback - a 1970s-style disaster film made with 2006-era special effects. The movie delivers in most of the ways that matter for a motion picture of this ilk, with Poseidon never trying to be something ...