Belfast (United Kingdom, 2021)
November 13, 2021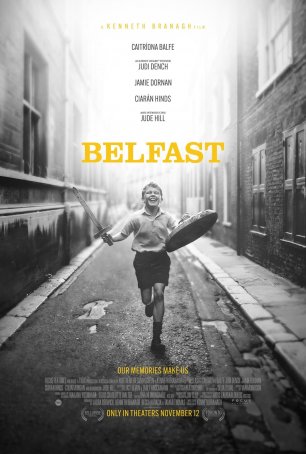 There have been dozens of movies made about Ireland's The Troubles. Most are hard-hitting and gut-wrenching and some are as powerful as any made about civil war and religion. With Belfast, writer/director Kenneth Branagh, now far-removed from the days when he was known primarily for Shakespeare, has found a new portal into this epoch of tears, tragedy, and fractured communities. Belfast is a coming-of-age story that perceives events through the eyes of an imaginative, movie-loving 9-year-old boy. It should come as no surprise to learn that this is largely autobiographical, with Branagh recreating a collage of 52-year-old memories and imbuing them with new life.

Branagh's stand-in is Buddy (newcomer Jude Hill), who lives in a mixed neighborhood in Belfast – "mixed" implying that Protestants and Catholics peacefully co-exist. But in August 1969, The Troubles begin with an explosion and a riot. Seen through Buddy's eyes, it's frightening and chaotic. The touchstones of normalcy are shattered – roads where he played with his friends become a war zone. Branagh elects to present the conflict through Buddy's eyes, stripping away much of the politics. To the boy, it's all about intolerance and the differences between Catholics (who have Confession) and Protestants (who have fire-and-brimstone preachers).

Buddy lives with his mother (Caitriona Balfe), father (Jamie Dornan), and older brother, Will (Lewis McAskie). His father works primarily in England and comes home only on weekends. His pacifist views regarding his Catholic neighbors don't sit well with the local firebrands, who have adopted a "with us or against us" attitude. Pa decides that the safest course for his family would be to move to England but it's not easy severing the deep ties that bind them to Belfast. Most important of those are Buddy's grandparents (Judi Dench and Ciaran Hinds), whose proximity makes them important participants in their grandchildren's lives.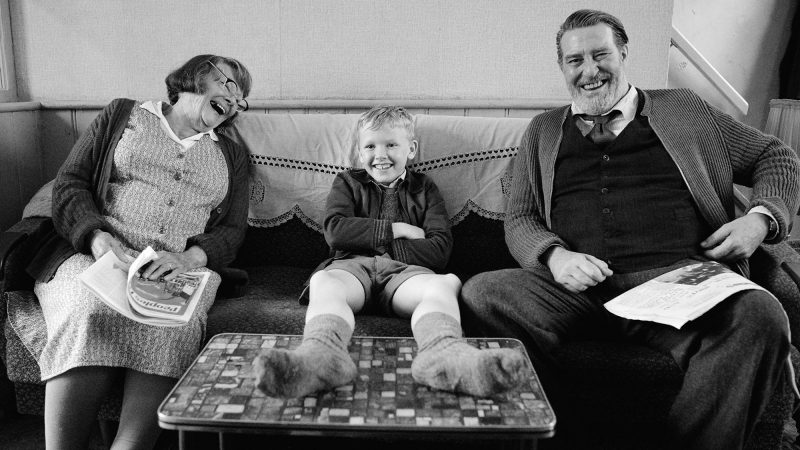 Belfast offers a series of vignettes. Although The Troubles are impossible to ignore – they linger in the background and occasionally force themselves into the foreground – Branagh is more interested in focusing on family, community, and the "little things" that formed the building blocks of who he would become. Almost certainly inspired by John Boorman's 1987 life-as-a-boy-during-WW2 memoir, Hope and Glory, Branagh seeks to center his story on the impressions of a child.

Just as Buddy comes to understand hatred when observing his father and mother's dealings with the militants, he also observes and experiences love. In addition to his close relationships with his parents and grandparents, he develops a crush on a local girl (Olive Tennant) and finds the courage to act on his feelings (by offering to collaborate with her on a school project) after being instructed about how to "win a girl" by his grandfather (while his grandmother sits in the background and rolls her eyes). Through both his parents and his grandparents, Buddy is provided with models of grown-up love. There's a touching scene in which grandpa rhapsodizes about the first time he saw grandma and how the attraction has never gone away.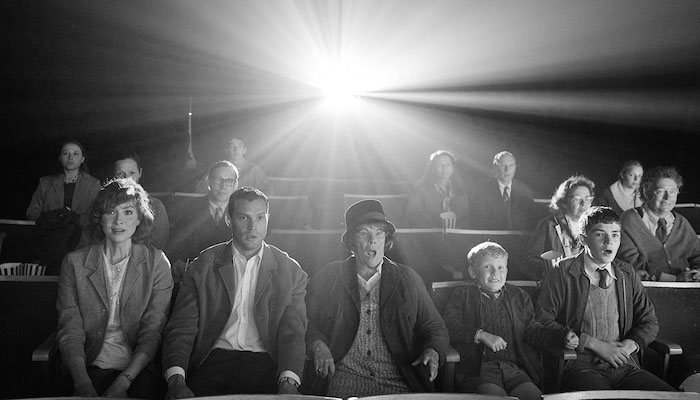 Belfast is mostly presented in black-and-white but there are occasions when Branagh switches to color for emphasis. The first of these sequences comes at the very beginning, when the camera gives us a brief tour of Belfast as it is today (before climbing over a wall and plunging into the past and b&w – a clever and effective visual effect). Color scenes #2 and #3 are both movie clips, with Buddy sitting in a theater with his family watching One Million Years B.C. and Chitty Chitty Bang Bang. Excepts from two other films are shown (but those, matching the films, are in b&w): The Man Who Shot Liberty Valance and High Noon. Branagh also uses the latter as an inspiration for a showdown on a Belfast street, although one could argue that the parallels are forced. The final color sequence occurs during a live stage performance of A Christmas Carol (only the play is in color – the audience remains in black-and-white), perhaps an indication of where Branagh's passion for the theater began.

The film isn't perfect. The character of Moira (Lara McDonnell), one of Buddy's friends, is poorly developed and comes across more as a plot device than a person. There are times when the movie relies a little too heavily on the music of Irish musician Van Morrison (the soundtrack features eight of his older tunes, none of which are "Brown Eyed Girl," along with one new song) to establish the era. But any problems with Belfast are minor and do little to dissipate the spell that Branagh weaves. Although there are certainly elements of tragedy in the storyline, this is first and foremost a crowd-pleaser. It touches the heart and, in addition to being Branagh's most personal film, it's also his most intimate. Unquestionably one of 2021's most affecting motion pictures.
---
Belfast (United Kingdom, 2021)
---

Three...better movies of this genre
worse movies of this genre
Three...better movies of Caitriona Balfe
(There are no more better movies of Caitriona Balfe)
worse movies of Caitriona Balfe
(There are no more worst movies of Caitriona Balfe)
Three...better movies of Jamie Dornan
(There are no more better movies of Jamie Dornan)
worse movies of Jamie Dornan
Three...better movies of Jude Hill
(There are no more better movies of Jude Hill)
worse movies of Jude Hill
(There are no more worst movies of Jude Hill)