Haunting in Venice, A (United Kingdom/United States, 2023)
September 15, 2023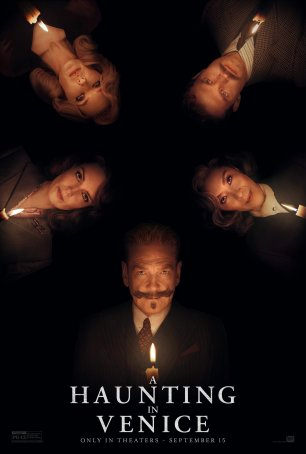 For his third Hercule Poirot movie, actor/director Kenneth Branagh has moved away from Dame Agatha Christie's highest-profile novels to something a little more obscure – a 1969 book called Hallowe'en Party. Screenwriter Michael Green, who remained rigorously faithful to Christie's texts for both Murder on the Orient Express and Death on the Nile, decided to retain only fragments of the source material for A Haunting in Venice. The result is recognizably Christie-ian but has a somewhat different aesthetic. It's a gothic production with the supernatural elements carrying it close to the line divides cozy mystery from ghost story horror. Opting for such a loose interpretation provides a boon to non-purist Christie fans – they no longer know whodunnit?
The movie takes place after World War II and contains numerous indications of how the conflict left its mark on the then-current generation of Europeans. By this time, a tired and disillusioned Hercule Poirot (Branagh) has retired to Venice, where he enjoys eating pastries and ignoring the numerous requests of the locals who want to hire him. His old friend, famed mystery authoress Ariadne Oliver (Tina Fey playing a character co-inspired by Christie herself and Arthur Conan Doyle's Dr. John Watson), tracks him down with an opportunity she is sure will pique his interest. A medium, Joyce Reynolds (Michelle Yeoh), is said to communicate with the dead. After a Halloween party, Reynolds will seek to contact the spirit of the murdered daughter of former opera singer Rowena Drake (Kelly Reilly). Ariadne has secured an invitation and invites Poirot to accompany her with the aim of debunking Reynolds. While in attendance, the detective quickly identifies fraudulent elements in the "show," but aspects of the act elude him and he is forced into a familiar investigative role when a body is discovered and the police are not immediately available because a rainstorm has flooded the canals and isolated the palazzo in which the séance occurs.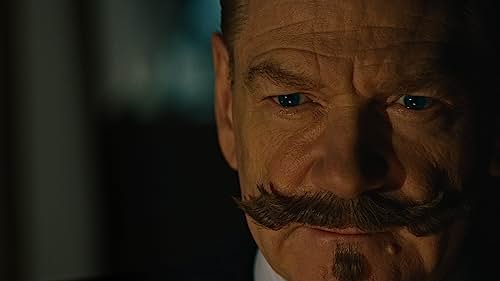 The usual Christie elements are present: a closed, claustrophobic location; a limited number of suspects, each seemingly with both a motive and an alibi; and Poirot's "little grey cells." The supernatural aspects make this almost seem like an erudite episode of Scooby-Doo as Poirot struggles to determine whether there are mundane methods behind the murders or whether the dead truly have returned to avenge a long-ago misdeed that occurred on the property.
Although Branagh took pains in Death on the Nile to provide Poirot with a backstory, the detective is present in A Haunting in Venice in his primary role: to solve a murder. Along the way, he nearly becomes a victim himself. In terms of advancing Poirot's character, little is attempted or achieved. We learn that he is seeking to put his career behind him, although Ariadne is certain that, provided with the right circumstances, he will once again find himself. She is proven to be correct.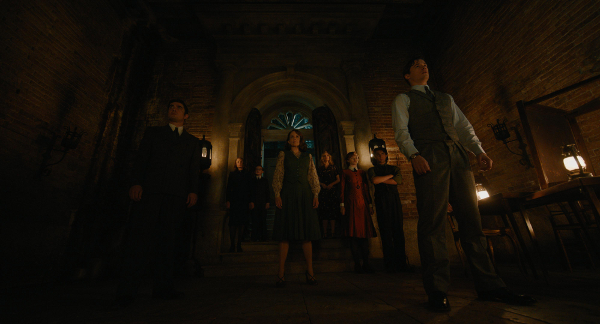 The secondary characters/suspects/victims are less well-developed than in the previous two movies, which limits the viewer's ability to become invested in the mystery beyond its puzzle aspects. This has always been the knock against Christie – that she prioritizes the mechanics of plot over the characters who inhabit her world – and it's evident in this production. The cast isn't as star-studded as the previous two Branagh Poirot movies. Orient Express featured the likes of Judi Dench, Derek Jacobi, Johnny Depp, Penelope Cruz, and Olivia Colman (amongst others). Nile scaled things back but still employed Letitia Wright, Annette Bening, Gal Gadot, and Russell Brand. This time around, aside from Branagh, Tina Fey, and Michelle Yeoh, the cast is decidedly low-profile.
There's no reason why A Haunting in Venice should be the last of Branagh's forays into Christie's compulsively page-turning world of murder. He has a history of delving deep and staying for a while and A Haunting in Venice displays little in the way of the creative degradation that often accompanies third installments. For those who enjoy their sleuthing on the big screen (even IMAX) with impressively conceived set pieces, evocative performances, gothic twists and turns, and a drizzling of ghostly apparitions, A Haunting in Venice delivers. And, although Branagh's turn as the famous detective may be far from achieving parity with David Suchet (who played the role in 70 TV adaptations), he's catching up to Peter Ustinov.
---
Haunting in Venice, A (United Kingdom/United States, 2023)
Director:
Kenneth Branagh
Cast:
Kenneth Branagh
,
Ali Khan
,
Jude Hill
,
Riccardo Scamarcio
,
Camille Cottin
,
Kyle Allen
,
Jamie Dornan
,
Michelle Yeoh
,
Kelly Reilly
,
Tina Fey
,
Emma Laird
Screenplay:
Michael Green, based on the novel "Halowe'en Party" by Agatha Christie
Cinematography:
Haris Zambarloukos
Music:
Hildur Guonadottir
U.S. Distributor: 20th Century Studios
---
Three...better movies of this genre
worse movies of this genre
(There are no more better movies of this genre)
Three...better movies of Kenneth Branagh
worse movies of Kenneth Branagh
Three...better movies of Ali Khan
(There are no more better movies of Ali Khan)
worse movies of Ali Khan
(There are no more worst movies of Ali Khan)
Three...better movies of Jude Hill
(There are no more better movies of Jude Hill)
worse movies of Jude Hill
(There are no more worst movies of Jude Hill)