Fifty Shades Freed (United States, 2018)
February 08, 2018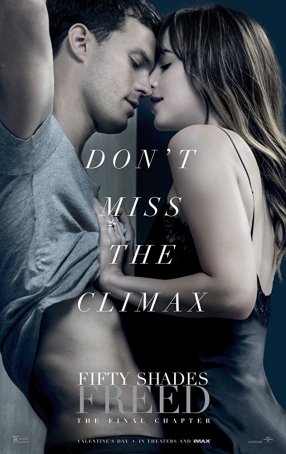 Spoiler alert: There's a spoiler in paragraph #4. Is it a big deal? Depends on how deeply you're invested in these characters and whether you've read the books. It's there but it won't ruin the movie if you inadvertently read it.
Although there are numerous problems with Fifty Shades Freed, the third and final installment of E.L. James' trilogy, the fundamental one is also the most obvious: the lack of a compelling story. To the extent that the Fifty Shades movies have been about the redemption of Christian Grey (Jamie Dornan) by his love of Anastasia Steele (Dakota Johnson), the transformation was completed at the end of the second film, Fifty Shades Darker. At that time, Christian had finished the long, laborious character arc starting at Patrick (American Psycho) Bateman and finishing at Michael Bolton. Fifty Shades Freed opens with the Grey wedding, beginning the third movie at the point where most romances conclude. The inconsistent, occasionally tortured narrative argues why the "happily ever after" period is rarely explored.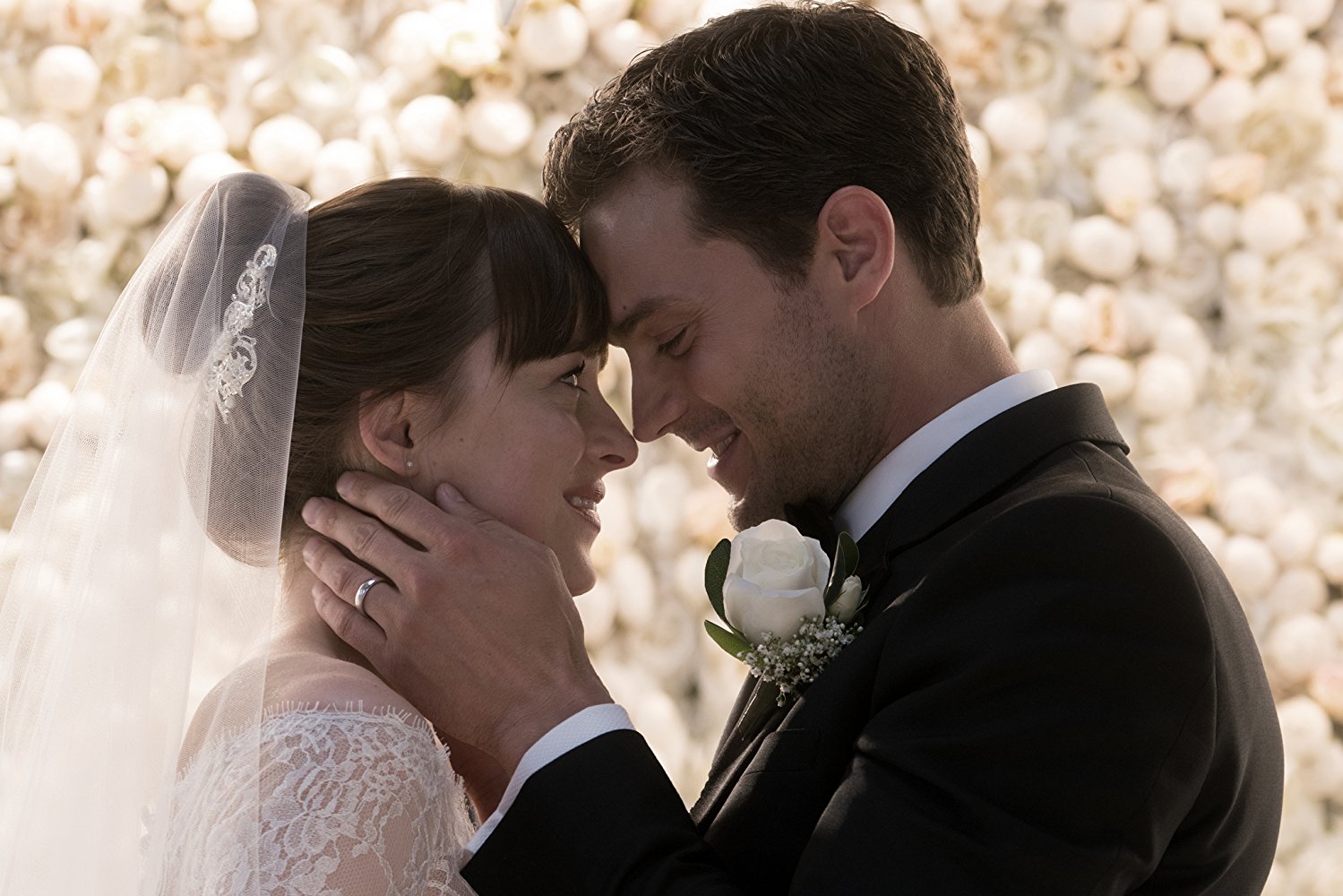 Now that Ana and Christian are together, the production (like the novel upon which it is based) has to figure out what to do with them. It dabbles a little in what could be called "post-wedding" melodrama, in which the couple copes with having to compromise on things like whether Ana will change her name from "Anastasia Steele" to "Anastasia Grey." Determining that this isn't sufficiently interesting to maintain audience interest, things slide into cheap thriller territory with Ana's former boss, the stalker/kidnapper Jack Hyde (Eric Johnson), haunting our heroine while her husband tries to micromanage her life. The movie even goes so far as to have a car chase, although I doubt the Fast and Furious filmmakers will be contacting director James Foley for advice.

As has been the case with the series since Fifty Shades of Grey, this is all about attractive people getting naked and having kinky BDSM-flavored sex. For those who are on hand strictly to see bare flesh, Fifty Shades Freed doesn't disappoint. Dakota Johnson shows off her breasts on a fairly regular basis and, although the camera never strays much below Jamie Dornan's navel, the rest of him gets good exposure. Despite all the nudity, however, there's not much steam or genuine eroticism. The sex scenes are strangely mechanical and devoid of passion. It's probably a mixture of three things: directorial decisions, a lack of chemistry between the leads, and viewer apathy.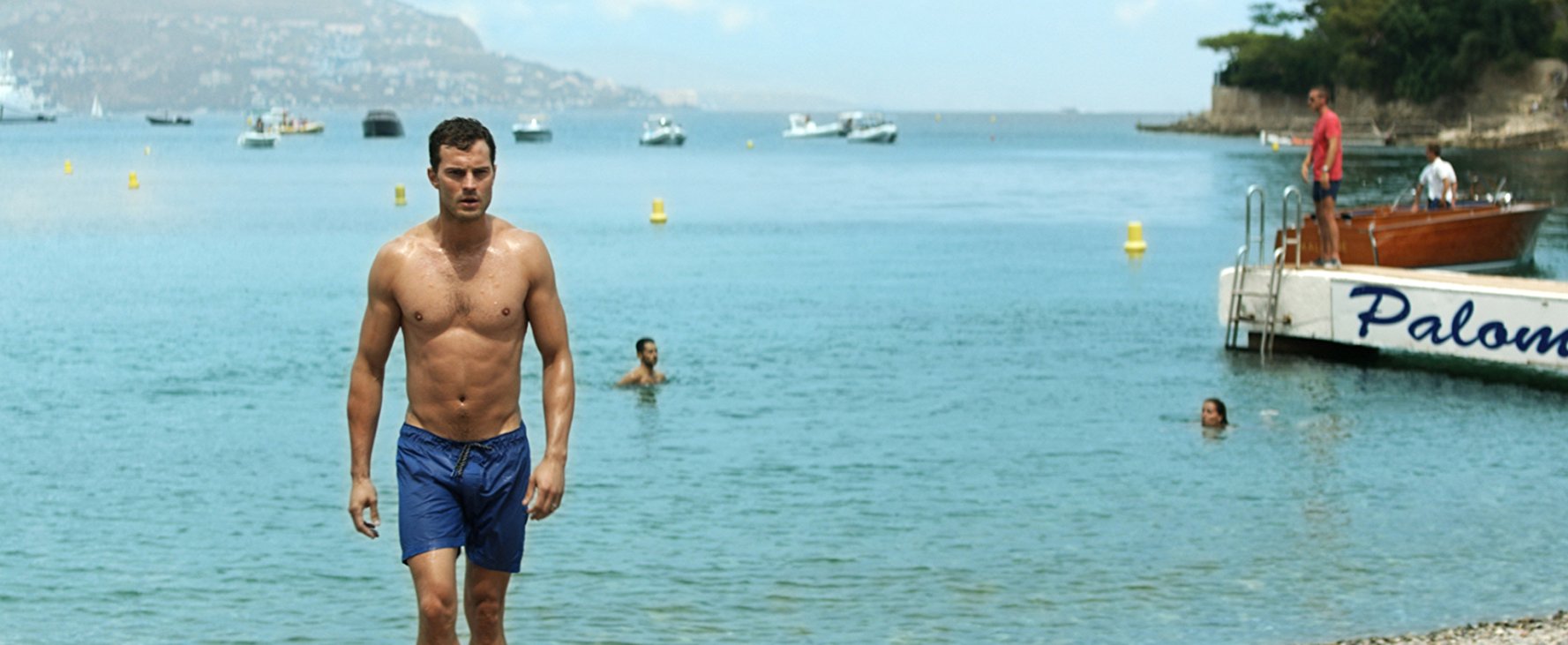 I would guess that constraints inherent in James' book limited screenwriter Niall Leonard (who is married to the author) from doing anything surprising or intriguing with the characters. A couple of scenes (Ana doffing her top outside at a resort and some risky public car sex) indicate that the plucky heroine might have a thing for exhibitionism but, rather than explore that avenue, the movie falls back on trysts in the red room and stale drama like (SPOILER!) what happens when Ana forgets about birth control. And, because all romances are about lovers finding one another, Fifty Shades Freed is forced to find a way to sever Ana and Christian's relationship so it can bring them back together.
Of the three movies, this is the least aggravating. Maybe that's because the thinly-drawn characters have grown on me (like a fungus). Or it could be because I don't care enough to eviscerate this one with the same level of venom I used for its predecessors. I didn't hate the movie and there's sufficient eye candy to keep it from being a complete snoozer. Fans of Ana and Christian may be glad to take one last trip around the block with these two. Although Fifty Shades Freed is forgettable, it's not godawful. Somehow, I doubt Universal will use that quote for marketing purposes.
---
Fifty Shades Freed (United States, 2018)
---

Three...better movies of this genre
worse movies of this genre
Three...better movies of Dakota Johnson
worse movies of Dakota Johnson
Three...better movies of Jamie Dornan
(There are no more better movies of Jamie Dornan)
worse movies of Jamie Dornan
Three...better movies of Eric Johnson
(There are no more better movies of Eric Johnson)
worse movies of Eric Johnson
(There are no more worst movies of Eric Johnson)