Kubo and the Two Strings (United States, 2016)
August 18, 2016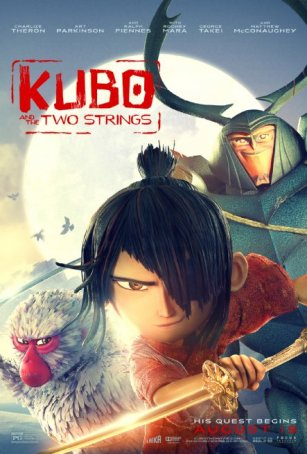 It has often perplexed me why there have been relatively few fantasy adventure animated films. With their mix of monsters, magic, and heroism, they would seem to be an ideal fit to captivate the imaginations of children and adults alike. Putting aside the fact that Kubo and the Two Strings is saddled with a terrible (albeit accurate) title, this is not only the first serious fantasy adventure animated film since the How to Train Your Dragon sequel but the best animated feature (at least thus far) of 2016, beating out such impressive contenders as Zootopia, Finding Dory, and The Secret Lives of Pets. (The less said about Ice Age: Collision Course, the better.)
The story transpires in a mythological feudal Japan – a setting that allows for an unconventional milieu and look. Although the movie was made with a strong Eastern flavor, its producer is U.S.-based Laika, whose previous credits include Coraline, ParaNorman, and The Boxtrolls. Like those earlier productions (for which Kubo director Travis Knight was the lead animator), this one employs stop-motion animation (as opposed to the more popular CGI) and represents the most polished example of this style to-date. The stop-motion is smooth (with only very occasional jitter being evident) and richly textured. Although CGI often provides greater detail, stop-motion offers a stronger "tactile" experience.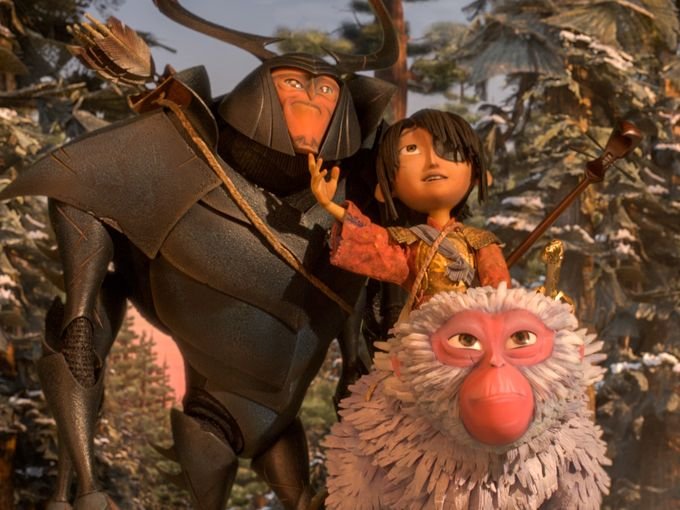 Kubo begins with a prologue that introduces a young woman with a baby arriving on a desolate coast following a harrowing sea voyage. Events flash-forward about a decade. The one-eyed baby Kubo (voice of Art Parkinson) has grown into a self-sufficient boy who cares for his mother and uses a strange sort of magic to breathe life into origami creations. He employs these as characters in stories he tells to the inhabitants of a local village. However, when Kubo violates one of his mother's key rules – never to stay out after dark – forces from his past erupt to claim him. Led by his two aunts (Rooney Mara) and his grandfather, The Moon King (Ralph Fiennes, no less fearsome than as Voldemort), Kubo's family seeks to sever him from his mother. To save himself, he must go on a quest for the three items (a sword, a breastplate, and a helmet) that, when combined, will allow him to stand against The Moon King. His only companions on this dangerous journey are an animated monkey talisman (Charlize Theron) and a human/beetle hybrid (Matthew McConaughey).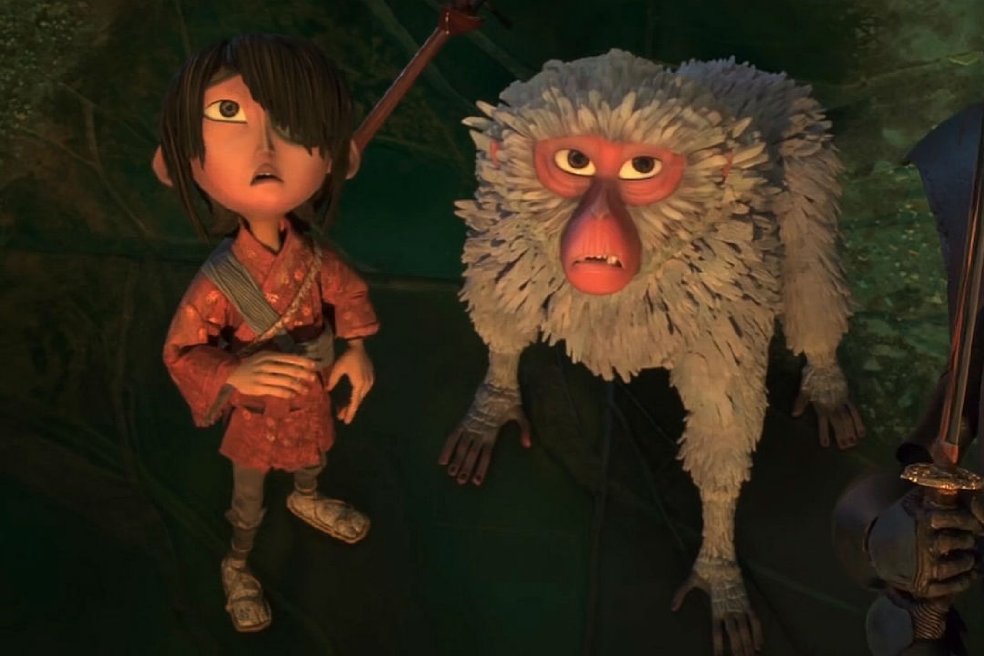 Kubo's action scenes occur with sufficient frequency that the proceedings never threaten to become ponderous. Many involve monsters – a giant animated skeleton, underwater eyestalks, a flying dragon, and a few other nasties – and all are fast-paced an impeccably rendered. Exposition is seamlessly incorporated; we never feel like we're being subjected to an information dump. Although most adults will be able to guess the movie's surprises, that doesn't diminish the viewer's pleasure. There's also humor to be found, especially in the interaction between Monkey and Beetle, whose arguments often sound like those of an old married couple.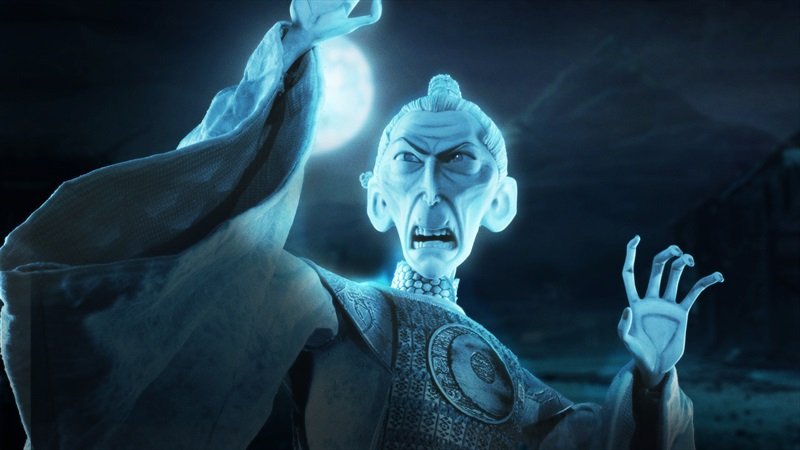 Although it incorporates themes about the importance of family and choosing the right path, Kubo is not as light and airy as a Finding Dory or The Secret Life of Pets. An entire village is destroyed and Kubo must learn, like Bambi and Simba, that death is a part of life. Although it's difficult to determine a cut-off age for children, the movie plays "older" than many animated titles and may frighten or disturb some in the under-seven crowd. However, Kubo's appeal may be stronger for older children.
Lacking the marketing push of a Disney or Universal, Kubo will undoubtedly play to smaller audiences and its box office expectations should be modest. However, this is as good as or better than any animated film to reach screens this year. The action doesn't seem designed to feed into a video game. The narrative scope is epic without losing sight of the importance of interpersonal relationships. The voice cast features two Oscar winners (Theron and McConaughey) and two multiple nominees (Fiennes and Mara). And the images on screen, while not as "perfect" as those generated by Pixar or Illumination, are entrancing. Kubo and the Two Strings is a magical motion picture in every sense of the word.
---
Kubo and the Two Strings (United States, 2016)
Run Time: 1:35
U.S. Release Date: 2016-08-19
MPAA Rating:
"PG" (Mild Violence)
Genre:
Animated
Subtitles: none
Theatrical Aspect Ratio: 2.35:1
---
Three...better movies of this genre
worse movies of this genre
Three...better movies of Art Parkinson
(There are no more better movies of Art Parkinson)
worse movies of Art Parkinson
(There are no more worst movies of Art Parkinson)
Three...better movies of Charlize Theron
worse movies of Charlize Theron
Three...better movies of Ralph Fiennes
worse movies of Ralph Fiennes