Operation Fortune: Ruse de Guerre (U.K./U.S.A., 2023)
March 03, 2023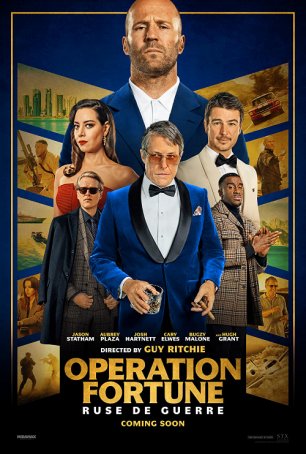 Operation Fortune: Ruse de guerre represents the second consecutive collaboration (and fifth overall) between director Guy Ritchie and actor Jason Statham. My main complaint about their 2021 effort, Wrath of Man, was related to the somber tone. For Operation Fortune, Ritchie opts for a more flippant approach that, although not as visceral and outlandish as the one that brought him to international attention during the late 1990s post-Pulp Fiction era with Lock, Stock and Two Smoking Barrels, plays to the strengths of Statham, Aubrey Plaza, and Hugh Grant. Unfortunately, the lukewarm spy thriller offers a convoluted, meandering storyline that's almost entirely devoid of tension and suspense. There's less action than one might expect and the character development is so thin that even when a character is in danger, it's hard to care.
In terms of plotting and structure, Operation Fortune uses the Generic James Bond Armageddon Scenario for its template. There's a potential civilization-destroying MacGuffin out there (no one is sure of its function) that is being sold by Mystery Party A to Mystery Party B for a cool price of $10B. When UK Minister Knighton (Eddie Marsan) gets wind of the danger, he assembles a team of adept but idiosyncratic agents led by Nathan Jasmine (Cary Elwes) and Orson Fortune (Statham). They're backed by computer genius Sarah Fidel (Aubrey Plaza) and sharpshooter J.J. Davies (Bugzy Malone). Their tasks are to identify Mystery Party A & B and stop the MacGuffin from fulfilling its function. Their only clue is the involvement of multibillionaire arms dealer Greg Simmonds (Hugh Grant), who is brokering the transaction. To get his attention, the agents "recruit" (a.k.a. blackmail) Hollywood A-list action star Danny Francesco (Josh Hartnett) who happens to be Greg's favorite actor, and use him as a Trojan Horse. Meanwhile, rival agent Mike (Peter Ferdinando) and his team interfere at almost every corner.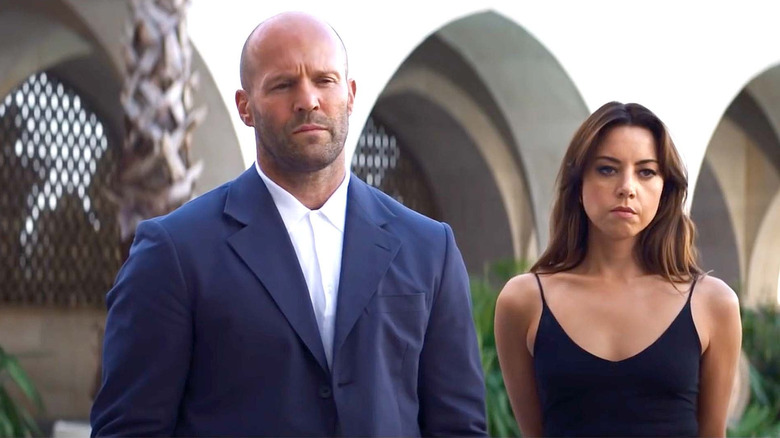 Viewed from a high level, the narrative is pretty straightforward but, when you get into the weeds, there are a lot of unnecessary complications and tangents that serve primarily to kill momentum. Those hoping to see Statham kick ass will be disappointed. He has a few fight scenes but they're perfunctory and forgettable. In fact, by amplifying the ensemble aspect of the production, Ritchie often relegates his lead actor to supporting duties. Aubrey Plaza fares well in these circumstances. Not only does she have all the best bits of dialogue but she easily outshines her male co-stars. Hugh Grant, whose career has taken a 180-degree turn from aw-shucks rom-com idol to psycho sleazeball, isn't quite as repulsive as he might be. And Josh Hartnett is miscast as the world's #1 action star whose subplot seems like it was ripped off from 2022's Nick Cage vehicle, The Unbearable Weight of Massive Talent.
Operation Fortune has the rhythm and feel of an origin story for a proposed franchise. (This is a common theme in Ritchie's movies.) Although the movie is designed as a self-contained story, the final scene leaves things open for future installments. It's hard to see sequels being made, however. The 007 flavor on offer here is '70s Bond when plot contrivances and silly action scenes were all the rage. Although it's true that most spy movies are derivative, Operation Fortune fails to disguise that fact. And, although being overlong and plodding is the chief sin, it isn't the only one. This movie captures a lot that's bad about the genre while encapsulating little that's good, which is not a recipe for viewer satisfaction.
---
Operation Fortune: Ruse de Guerre (U.K./U.S.A., 2023)
---
Three...better movies of this genre
worse movies of this genre
Three...better movies of Jason Statham
worse movies of Jason Statham
Three...better movies of Aubrey Plaza
worse movies of Aubrey Plaza
Three...better movies of Cary Elwes
worse movies of Cary Elwes