Secret Life of Pets 2, The (France/Japan/U.S.A. , 2019)
June 07, 2019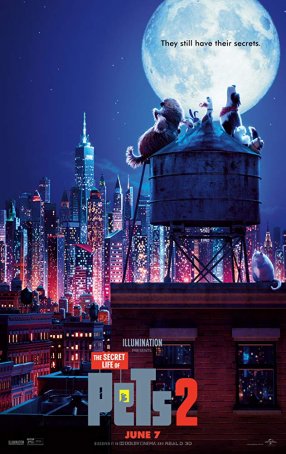 To the extent that there's a difference between "big screen cartoons" and "animated features," The Secret Life of Pets 2 comes closer to the former than the latter on the spectrum of non-live-action motion picture entertainment. The film is notable for its lack of focus and the absence of a strong, cohesive narrative. It is essentially three separate shorts connected only by the presence of returning characters from The Secret Life of Pets. Although not "bad" in a conventional sense, it's a disappointingly mediocre effort that doesn't have a lot to offer potential viewers over age 10. It's a perfect example of what can happen when a sequel exists simply because its predecessor made a lot of money.
The Secret Life of Pets 2 reaches screens three years after The Secret Life of Pets became an unexpected success. The same creative team of veteran animation director Chris Renaud and writer Brian Lynch are in place and most of the voice actors have returned. Therefore, it's something of an unpleasant surprise that the movie is so far below the original in terms of wit and intelligence. The first movie derived mileage from showing the purported antics of animals while their owners are away (they become like teenagers alone at home with parental authority removed). This movie doesn't add much to that. Its most clever sequence is one in which a small dog takes lessons on becoming a cat. That sequence has some fun with the differences (both stereotyped and real) between felines and canines. It has an amusing sense of playfulness that's absent from much of the rest of the production.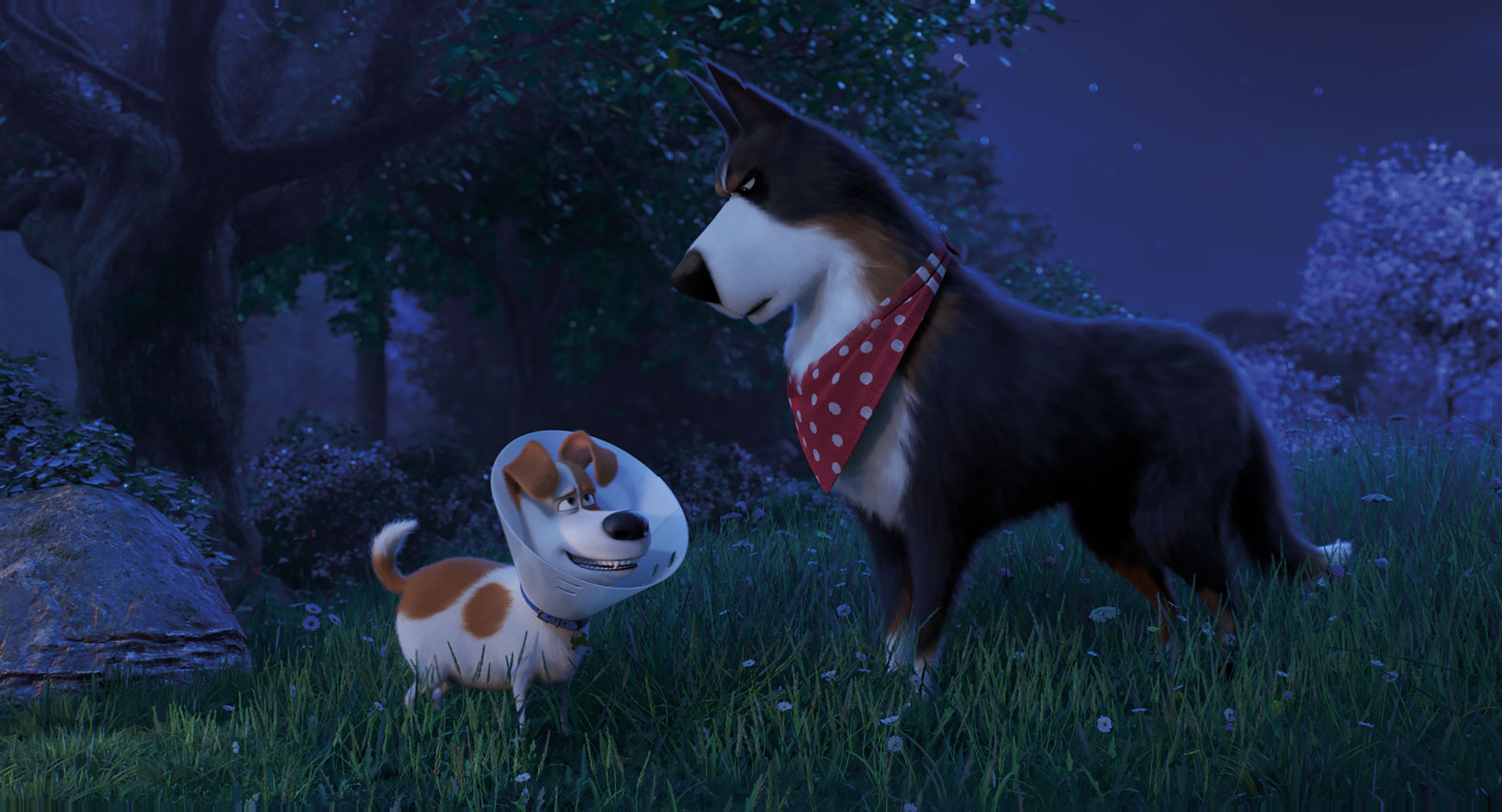 The movie introduces the concept of how pets cope with new additions to a family. Max (voice of Patton Oswalt) and Duke (Eric Stonestreet) are forced to deal with the inevitable when their owner, Katie (Ellie Kemper) "finds someone." Marriage leads to a pregnancy and soon the canine duo have a baby thrown into their lives. It doesn't take long before they are fiercely protective of the new arrival. The majority of Max and Duke's story involves a trip to "the farm" – a tale that becomes City Slickers for animals (but without Billy Crystal). In the wild, untamed country, they meet a dog named Rooster (Harrison Ford), who dispenses life lessons about courage and self-worth in his gravelly voice.
Meanwhile, back in the city, Snowball the Rabbit (Kevin Hart) has adopted a superhero identity (this leads to a rendition of the Superman theme). When he is approached for a job, however, his limitations – no superpowers to start with – become clear. Nevertheless, he and his client, Daisy (Tiffany Haddish), rescue a white tiger cub from a nasty circus owner. This puts them squarely in the bullseye of the evil Sergei (Nick Kroll) and his henchmen.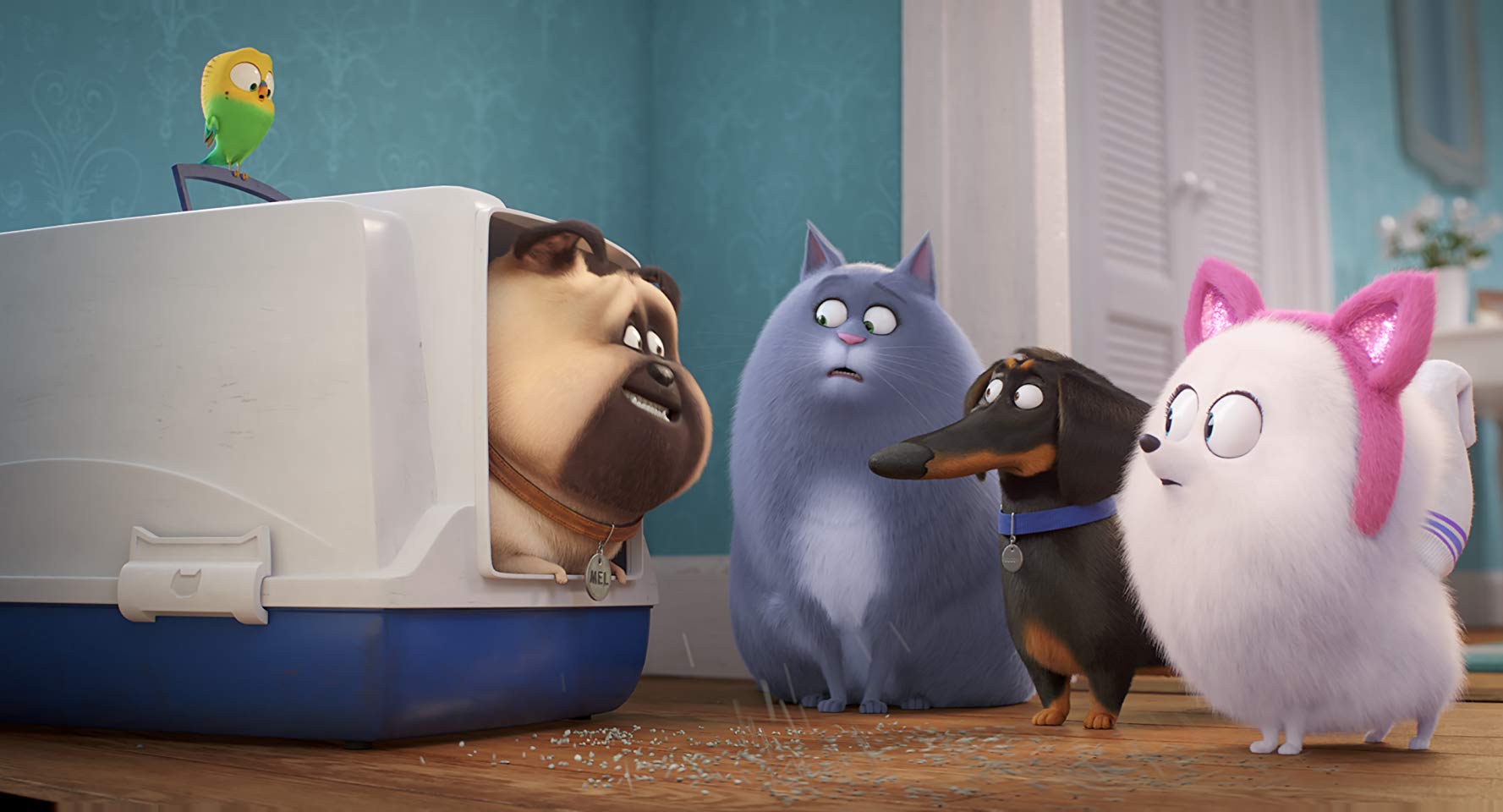 Finally, in the thinnest of the three stories, fluffy, pampered Gidget (Jenny Slate) loses a prized toy through the window of an apartment occupied by a cat lady and her dozens of feral friends. Determined to retrieve the item but realizing a dog would be less-than-welcome, she goes to Chloe (Lake Bell) for lessons about how to impersonate a cat.
The Secret Life of Pets 2 underwhelms in many ways but, by checking most of the requisite "animation for kids" boxes, it can at least claim to be an adequate distraction for young movie-goers. It tries too hard to be inoffensive, resulting in straightforward, snooze-inducing storylines. The comedy is as bland as the artwork. Although there's nothing wrong technically with the animation, not a single image or frame can claim to be awe-inspiring or eye-popping. This is a clinically produced big screen cartoon designed for mass consumption. The original The Secret Life of Pets wrung as much potential out of the concept as could be extracted; the decision to move forward with a sequel validates that belief. The characters and situations may be familiar but the movie doesn't have anywhere to go and, as a result, it spins its wheels for more than an hour. This is second-rate animated entertainment recommended only for those craving any excuse for a family outing.
---
Secret Life of Pets 2, The (France/Japan/U.S.A. , 2019)
---

Three...better movies of this genre
worse movies of this genre
Three...better movies of Patton Oswalt
(There are no more better movies of Patton Oswalt)
worse movies of Patton Oswalt
Three...better movies of Bobby Moynihan
(There are no more better movies of Bobby Moynihan)
worse movies of Bobby Moynihan
(There are no more worst movies of Bobby Moynihan)
Three...better movies of Dana Carvey
(There are no more better movies of Dana Carvey)
worse movies of Dana Carvey
(There are no more worst movies of Dana Carvey)