Movies starring Harry Connick Jr Bug
Calling Bug a "horror" film may be misleading. Although the movie includes some of the trappings genre fans would expect - including a moment of gore that will cause some viewers to turn away from the screen - it's more of a psychological drama. I... Iron Giant, The
Over the past few years, as studios like Disney, Dreamworks, and Fox have worked to revive motion picture animation, Warner Brothers has remained mired in the lackluster morass that nearly killed animation during the '80s. The distributor's big ef...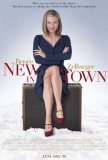 New in Town
Spoiler Alert: To the extent that the term "spoiler" can be applied to something this formulaic, I suppose I ought to warn readers that I talk in general terms about how the movie ends. What do you get when you mix A Christmas Carol with a subst... P.S. I Love You
If you want an insightful movie about the grieving process, check out Grace Is Gone, which explores how a suddenly single father must cope not only with the loss of his wife but must face telling his daughters that their mother is not coming home. ...